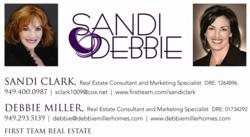 They say "Timing is Everything" It just isn't the same for everyone. Our job is to get everyone running on the same clock.
Irvine, CA (PRWEB) November 11, 2012
Sandi Clark and Debbie Miller, Real Estate Team from First Team Real Estate, strive for continuous improvement at all levels of service. Sandi and Debbie have had over 25 years combined in Real Estate expertise and have been nationally featured on CBS Money Watch, FOX, NBC, The LA Daily News and The Boston Globe. This level of expertise reflects their philosophy of lifetime learning and is one of the keys to their success that they will be sharing in this new show "Leading The Field: World Class Experts Share Their Tips & Advice".
Sandi Clark and Debbie Miller have many skills that allow them to offer a range of services to their clients. First and foremost the familiarity to the area of Orange County, they have both lived there for over 30 years and have been active and flourished within the community. Since 1998, they have helped over 300 families realize their dreams of owning real estate.
Secondly they have marketing expertise that includes the many steps it takes to sell a clients home. This includes a 30-60-90 Marketing Plan, "Curb to Curb" checklist, professional photography and the ability to promote and achieve a successful Open House. On top of that, they are great negotiators and will make sure the client is comfortable through the whole process. Jamie, a client who recently sold her home stated, "About 4 months ago we met with Sandi and she outlined all of our options. We decided the best thing for us would be to sell our home and buy something a bit bigger...She then helped us determine what we needed to do to our home to get it into tip-top condition. Sandi's suggestions, a little elbow grease over one weekend (yup, that's all it took) and $200 was all we needed to make our home ready. Before Sandi would let us accept an offer, she looked us both straight in the eyes and asked,'Do you feel absolutely certain that you have not left any money on the table and that this is the right buyer for your home?' Without hesitation we both said,'yes!' We never felt pressured. And we felt unbelievably comfortable with Sandi and extremely well taken care of. And best of all...we sold our home!"
Lastly, in this time of financial uncertainty, they have become Short Sale & Foreclosure Experts. They have helped dozens of families navigate their options regarding their real estate situation. This has allowed them to put their struggles behind them and sleep better at night.
Sandi Clark and Debbie Miller are excited to be participating with other leading experts and best-selling author Robert Vitelli on this new show 'Leading the Field: World Class Experts Share Their Tips & Advice'.
First Team Real Estate
Sandi Clark and Debbie Miller
Sclark1009 (at) cox (dot) net
Debbie (at) debbiemillerhomes (dot) com
949-400-0987
http://www.BestLuxuryHomesInOrangeCounty.com
"We Support The H.O.M.E. Foundation"
About The H.O.M.E. Foundation:
The Helping Others Means Everything, or The H.O.M.E. Foundation, is a not-for-profit organization dedicated to helping our Family of Charities. Frankie Verdugo, President of The HOME Foundation, wants to help as many worthy charities as possible as they struggle during these tough economic times. Frankie Verdugo helps raise funds through luxury dream home raffles, home giveaways, prizes, and high profile celebrity events in Hollywood... "Our mission is to help charities reach their fundraising goals and to bring awareness to their praiseworthy causes."