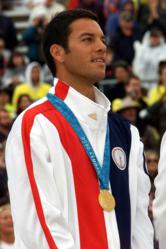 Eric has helped many athletes and friends purchase Luxury Homes near the Beach.
Palos Verdes, CA (PRWEB) June 28, 2011
UFC middleweight champion Anderson Da Silva, "The Spider," whom many consider the best mixed martial arts fighter in the world, has purchased a 4 bedroom, 3.5 bath home in Palos Verdes. The 3,000 sq. ft. home is on a 23,500 sq. ft. lot with a pool and ocean view. Da Silva purchased the home to be closer to where he trains. He previously rented in Redondo Beach, and also owns homes in Rio De Janeiro and Curitiba, Brazil.
Da Silva paid a near-asking price of $1.76 million for the home, which he was represented by 2000 Olympics beach volleyball gold medalist Eric Fonoimoana, of South Bay Brokers. Escrow closed June 20, 2011.
Anderson has a black belt in Judo, Taekwondo, and Jiu-Jitsu. He is a nice and gentle man outside the ring but in the cage he is the master of his MMA craft. "The Spider" is the current UFC Middleweight Champion.
Eric Fonoimoana has been selling residential real estate for over 7 years and specializes in selling luxury homes in the South Bay beach cities of Southern California. Eric was a professional athlete who competed on the AVP and the FIVB Beach Volleyball Tour for 16 years. He is considered to be one of the best real estate negotiators in the business. In the last 12 months, Fonoimoana's real estate team has been busy closing 43 transactions which translates to over $25 Million in sales.
Eric is the CEO of Dig for Kids Education Foundation a 501 C-3 Non-Profit. He has raised over $1million for at- risk youth and motivates children to do great things by teaching them the importance of education and exercising, a true community activist.
For more info please contact Eric Fonoimoana at eric.fonoi(at)southbaybrokers(dot)com.
310-350-5578 cell
http://www.manhattan-beachproperties.com
http://www.youtube.com/user/efonoi
http://www.facebook.com/ericfonoi
###