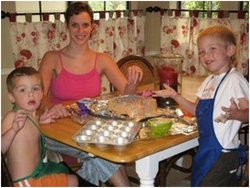 Austin, TX (PRWEB) August 20, 2008
Austin Real Estate: Real estate isn't brain surgery, or is it? For Regent Property Group's client April Henry, a 29 year old wife and mother of two based in Austin Texas, they are one in the same. On Thursday, July 24th, 2008 April went under the knife of an elite neurosurgeon in New York City for a rare condition where her brain stem was sinking into her spinal canal, causing a myriad of problems such as heart arrhythmia, difficulty walking & breathing, reduced ability to "feel" in the upper extremities, and extreme pain throughout her body. A short two weeks later with an unexpected infection causing April fever and uncomfortable swelling around her head, April would be carefully and very reluctantly escorted by her husband to two title company appointments to close on the sale and purchase of thier home, all before driving to the emergency room.
All of her life April has been physically active and athletic, enjoying activities such as snow skiing when on vacation and other outdoor activities prevalent with the Austin Texas lifestyle and environment. But due to April's diagnosis of Classical Type Ehlers Danlos Syndrome and Chiari I Malformation in early 2008, April learned that she has a condition that just about ensures her a long list of debilitating symptoms and along with it, an uncertain fate. At best April would experience the continuation of the painful degeneration of her motor faculties and at worst; she was at risk of paralysis or sudden death. The best solution to her ails would be neurosurgery, a posterior fossa decompression and a cervical fusion to create separation between her skull and spine, which would relieve the pressure built up in her spinal canal due to her sinking brain stem.
The Henry's decided early in the summer 2008 to hire REALTOR® Brian Talley of Regent Residential to sell their northwest Austin home in Spicewood Estates and to relocate to a home nearby to accommodate their need for more space, a single level foundation, and a newer home requiring less ongoing maintenance and repair. Their existing house was livable, but the house was over 20 years old and required systematic improvements to be conducted to keep it in good living condition. The house also had a foundation with different levels where April had to go up and down steps to get from one room to another. The backyard was small and with their two highly energetic boys Jack (4 years old) and Luke (3 years old) getting older, everyone would benefit from more play space inside the house and in the back yard.
At the time the Henry's decided to sell their home they already knew that April needed to have surgery for her recently diagnosed condition, but they fully intended to get the sale, purchase, and move completed before the procedure, which was not yet scheduled. So on June 5th the Henry's had Brian Talley place their home on the market at a price consistent with the tax value of the home. While the Henry's wanted to get the highest value possible for their home, they also wanted a fast sale given the circumstances.
By the time July rolled around the house was still on the market despite two price reductions. April's condition had progressively deteriorated and her pain was worse than ever. She received a much anticipated call from her neurosurgeon with a proposed date for her surgery, July 24th. April didn't know it at the time, but the date that her surgery was scheduled would be the same day her house would go under contract. Furthermore, with a short two week close date on the sale of her home, April would still be recovering from her surgery when she would have to move out of her home and into the new one.
On Friday, August 1st April returned from New York City to begin her recovery from surgery. A short 6 days later April would be grudgingly escorted by her husband Paul to a 9am closing appointment to finalize the sale of their home and then on to a 1pm closing appointment to finalize the purchase of their new home. On the evening before closing, April was running a fever and had swelling around her head and it was now too late for April to provide her husband with power of attorney to sign the closing documents on her behalf. April's husband was adamant that they delay closing in order to take April directly to the hospital, but April insisted that they attend closing before she subject herself to another long hospital stay. So on Thursday morning August 7th April and her husband Paul attended the 9am and 1pm closings together and completed the sale and purchase of their home before driving directly the hospital emergency room.
April was admitted to the crash trauma unit at the local Breckenridge hospital immediately following the 1pm closing and it was confirmed that she had an infection in the area of her brain surgery. After a night in the crash trauma unit they moved her into critical care for two days followed by two more days on the neurosurgery floor. Fortunately, it did not turn out to be bacterial meningitis, which can lead to sudden death. April was in the hospital for a total of 5 days until the infection subsided. She arrived at her new home on Tuesday, August 12th, which had been unpacked and organized for the most part by her husband and friends.
It was a painful and stressful process for April to sell and buy a home; all while suffering through physical pain from her condition, the challenges of surgery, and the post surgery recovery process. April attributes her ability to endure through these challenges to her faith in God and to the support she has received from family and friends.
###