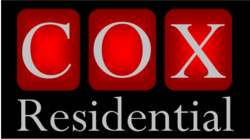 creating foundational income unattached to personal sales production
Charlotte, NC (PRWEB) October 19, 2011
With Charlotte MLS data indicating a decrease in total sales volume of more than 50% from '06-'07 to '09-'10, Cox Residential has emerged with a new real estate business model.
"Although the statistics paint a dire picture, the number of competing brokers has also been reduced by a significant number indicating that the agents who have thus far weathered the storm may still be in a position to thrive,'" says Eric Cox, Principal and Broker in Charge of Cox Residential. "I acted on the opportunity and built a business model based on success and longevity by creating additional income and multiple platforms for that 'top-of-mind awareness' that we as agents strive to achieve."
In traditional real estate, agents typically are independent competitors after the same buyers and sellers, or tenants and landlords. At Cox Residential, agents are part of a team and are compensated for the success of that team not only in real estate, but also for providing ancillary services supportive of their business success, creating foundational income unattached to personal sales production.
"Moving away from inundating clients and prospects with email, we send personalized holiday photo cards, birthday cards, or closing date anniversary cards and gifts. We're proud to have partnered with a company that not only achieves this task with the click of a mouse but also manages our database and pays us for using and promoting their service," says Jim Coulson, Director of Benefits for Cox Residential. "Additionally we've tackled a subject on everyone's mind… 24/7 access to quality, affordable healthcare. What could be more relevant for 50 Million uninsured Americans including hundreds of thousands of our Realtor® friends?"
Cox Residential intends to activate a full-fledged launch at the beginning of 2012. They are offering an incentive to all agents and BICs who join before year-end. For more information on how you can get involved and help make a difference, visit http://www.slideshare.net/cox3960/cox-residential
With 1,100 office location capabilities, Cox Residential is a real estate company offering general brokerage and property management services for residential and commercial real estate with exceptional client satisfaction and limitless business opportunity.
###