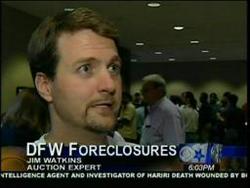 HOW TO INVEST IN ABANDONED HOUSES
Dallas, Texas (PRWEB) January 2, 2009
DFW Mentor will offer these two classes on the following dates:
"HOW TO INVEST IN ABANDONED HOUSES" - Wednesday, Jan. 14, 2009 and "PRE FORECLOSURES: SUCCESS WITH HOMEOWNERS" - Tuesday, Jan. 20, 2009. Both are scheduled to take place from 5:30 p.m. until 10:00 p.m. on the evenings listed and will be held at the offices of Foreclosure Listing Service in Addison, Texas.
Residential foreclosures continue to reach record highs around the country, including Dallas - Fort Worth. All course material is based entirely off of the real life experiences of Dallas Pre-Foreclosure Specialist Jim Watkins. Attendees are shown exactly how investors can profit, even with the challenges of the current market.
Class author, instructor and owner of DFW Mentor, Jim Watkins, received a Readers Choice Award for his article Investors Working on Foreclosure Deals: Avoid Fraud Suspicion - Disclose!.
Shailesh Ghimire, host of the 65th Carnival of Real Estate that issued the award, had this to say:
"Jim tackles the very controversial topic of taking over pre-foreclosures by signing over a Warranty Deed. I've worked with a few borrowers who have been burned by this techniques, but Jim seems to know what he's doing and isn't out to screw the homeowner. I think he presents a good blueprint for those seeking to take over pre-foreclosures."
For more detailed information, please visit http://www.dfwmentor.com.
# # #