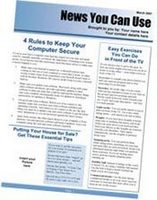 It's those agents who are succeeding in that tough market.
Toronto, ON (PRWEB) July 17, 2008
With the latest CREA figures indicating a slowdown in the booming Canadian real estate market, agents and brokers would be well advised to start building client relationships today to insulate themselves against a market bust, says a real estate newsletter expert.
Simon Payn, of Ready to Go Newsletters, says it is strong relationships with past clients and their farm that is seeing the smartest Realtors though the housing crisis in the United States.
"While some of my American real estate clients have left the industry, many more are coming to me to begin a real estate newsletter program in order to build relationships with their clients and farm," says Payn.
"It's those agents who are succeeding in that tough market."
Payn says Canadian real estate agents should start building stronger relationships with their past clients and farm today in order to prosper in a slowing Canadian housing market.
"It's like putting money in the bank," says Payn. "If the Canadian market does start to crumble, those real estate agents who have invested in their client relationships will be able to draw on that investment in the months and years ahead."
Payn says there are 6 keys to building strong relationships with clients:
1) Have an "of-service mentality". Take time to consider the needs of clients and become their trusted adviser rather that someone hungry for a commission.
2) Consider the relationship long-term. People make several housing transactions over their lifetimes, so it pays to maintain a relationship over years -- and decades. Invest now to build a relationship that will pay off many times in the future.
3) Become a trusted expert. Differentiate yourself by proving you are knowledgeable about the local market. (Of course, you are knowledgeable, but how far do you go to actually demonstrate that to clients?)
4) Invest time now to build your farm by reaching out using relationship-building materials that cement your position as a trusted adviser to clients.
5) Communicate with clients and your farm on a regular basis. Without an investment in communication, business relationships (just like friendships) die.
6) Develop a Unique Selling Position. Decide what makes you different from every other Realtor in your market. For example, one of Payn's clients is the pet-friendly Realtor, another specializes in luxury properties.
There are several tools Canadian real estate agents can use to build relationships, starting today:
1) Invest in information materials (articles on their website, a blog, special reports, real estate newsletters) that provide information that not only is helpful to clients but also proves their expertise.
2) Invest in methods of communicating regularly with clients and their farm, for example using postcards and newsletters.
If a real estate agent doesn't have the time to write articles or create newsletters, there are several specialist companies that can help.
Payn's own company, Ready to Go Newsletters, provides a ready-made real estate newsletter for Canadian Realtors. It can be customized in as little as 15 minutes, then printed and mailed to clients - or sent via email.
Canadian real estate agents can try the newsletter for no charge for one month. For more information, visit http://www.readytogonewsletters.ca
###