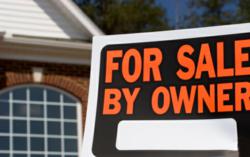 Most homeowners don't know how difficult it really is
Pasadena, Ca (PRWEB) August 10, 2012
"It may of worked before, but not anymore," said local Los Angeles homeowner that has tried to sell his home by himself after succeeding in the past. "Homeowners currently selling or thinking about selling their home need to know this information before they find themselves at a big loss."
A recent study conducted by Red Blue Realty in the Los Angeles area showed that 9 out of every 10 homes that are on the market without a real estate agent do not sell in accordance with fair market values. The competitive market for Pasadena real estate has thrived in recent years, but "For Sale by Owner" signs are becoming a less and less common sight according to Red Blue Realty. This trend is not exclusive to California. Since the 1980s, there has been a steady, nationwide decline in real estate transactions by "For Sale by Owner" sellers or, as they are lovingly referred to in the industry, FSBOs (pronounced "Fizz-bos"). Listed below are a few reasons to reconsider putting up that "For Sale by Owner" sign.
Buyers' Market
Competition for buyers is on the rise, and median sales prices are on the decline; it's definitely a buyers' market when it comes to Pasadena real estate. What this means is that it's now more difficult to quickly sell a home for its true value. After months of waiting, many FSBOs will feel pressured into selling their home for less than it is worth.
Getting the Right Price
The number one problem that almost all FSBOs struggle with is correctly pricing their property. If a home is priced too high, it will sit on the market indefinitely; if a home is priced too low, the owner will lose a lot of money. The pricing task is especially difficult thanks to the nature of the real estate market, which is exceedingly complicated and in a constant state of flux.
Time and Patience
"Cleaning up, listing the home and hammering in the sign" is just the beginning of the home sale process. To effectively manage all aspects of a sale can take an exorbitant amount of time and patience -- it's easily a full-time job in of itself. The home needs to be proactively marketed, open houses need to be held, stacks of papers need to be filed, and flakes need to be weeded out from the serious buyers. And that's not even to mention the endless amount of legal paperwork, hoops and hurdles!
Professional Competition
While it's possible to sell Pasadena real estate without professional assistance, FSBOs will still need to compete with real estate firms that sell hundreds of properties every year. Like any craft, to successfully sell a home takes a lot of practice and many resources.
Real estate firms and lobbying groups often perform private studies and surveys that only real estate agents and brokers can see. What this means is that the competition has access to private real estate data, such as statistical and pricing information, that cannot be retrieved by popular internet search engines.
Many FSBOs will either (1) fail to sell their home or (2) sell their home for less than it's worth, because they do not have the time, experience, or resources needed to succeed.
Ultimately, economic decisions are all about trade-offs. While it may seem tempting to skip the commission fee and put up that "For Sale by Owner" sign, there are many initially unclear trade-offs to consider. After investing hundreds of hours and thousands of dollars managing all aspects of a property sale, it becomes apparent to most that a good real estate agent easily pays for themselves -- but by then, it might be too late.
For those who are serious about quickly selling Pasadena real estate for its true value, contact Red Blue Realty today.
Email: Contact(at)redbluerealty(dot)com
Phone Number: 1-(855) 66-RBREALTY or 1-(855) 667-2732
To find new homes for sale and learn everything there is to know about real estate, check out RedBlueRealty.com