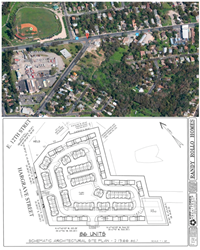 'There's still an incredible demand for housing in the area so we're happy to meet that need, and I'm fortunate to work with financiers like Pride of Austin who understand this market and have the appetite to fund projects like these.' - Todd McCullough
Austin, TX (PRWEB) October 31, 2013
Real Estate builders looking to break ground in East Austin need only to look to the Southeast corner of 12th Street and Hargrave Street, where local land developer Todd McCullough plans to develop 86 residential lots by November 2014.
"The desire for home ownership in East Austin continues to steadily rise," McCullough said. "Acquiring the land for a project like this was a tremendous opportunity as there will be high demand for lots at this price point this close to downtown Austin."
McCullough's company 12th and Hargrave Interests, LLC financed the $3.3 million acquisition of the 5.66 acre tract of land in the center of Austin's up-and-coming east side neighborhoods through an asset-based loan from Austin's Pride of Austin Capital Partners. As a custom home builder himself, Pride of Austin Capital Partners co-managing member Robert Buchanan has observed the rapid appreciation of the city's eastside neighborhoods first hand.
"This project was a no-brainer for us to lend on because we're builders too, and we know it makes sense." Buchanan said. "We built custom homes on the eastside back when you could get an empty lot for $60,000. Those days are long gone. Now you'd be lucky to get dirt over there for double that price."
12th & Hargrave Interests, LLC is developing the land into 86 townhome units. McCullough said the project has already garnered interest from several home-building companies, but at the time of this release there has not been a home builder selected.
McCullough currently has a development projects underway in Liberty Hill and will have developed 474 lots for new homes to be built in Central Texas by the end of 2014.
"There's still an incredible demand for housing in the area so we're happy to meet that need, and I'm fortunate to work with financiers like Pride of Austin who understand this market and have the appetite to fund projects like these," McCullough said.