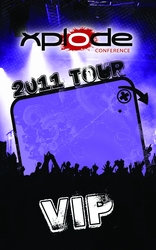 Bleeding Edge REtech Goodness
Atlanta, GA (PRWEB) March 27, 2011
The Xplode Conference Series on Real Estate Technology is coming to a city near you! Xplode builds great conferences for real estate in partnership with local associations and MLS organizations.
After a super-successful launch event in Austin Texas on February 10, 2011, Xplode announced today that it will feature real estate conferences on technology in a host of US cities in 2011.
The spring series includes Destin (Fl) on May 19th, Orlando (Fl) on June 9th and Washington DC on June 23rd
Xplode plans fall 2011 events including Dallas (Tx), Long Island (NY) & Tucson (Az)
Xplode Conference Director Matt Fagioli says "We've worked hard to assemble the best of the best for Xplode 2011. The premier speakers in real estate technology delivering up-to-the-minute details on what's working in real estate sales & marketing today". Fagioli also shared "We've seen a radical shift in the US real estate market along side a massive change in consumer behavior online. Real Estate professionals have to adapt to the ever changing technology landscape or simply get left behind"
Xplode Conference also highlights the most powerful real estate technology & marketing products. Sponsors include Market Leader, RPR, Realtor.com, Zillow, Homefinder, Exit Realty, NCI & Diverse Solutions.
###