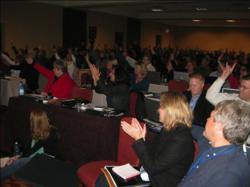 Real Estate Video is The Ultimate Marketing Opportunity
Atlanta, Ga (Vocus/PRWEB) April 19, 2011
Xplode Conference announces a strategic partnership with Vscreen, the leading provider of real estate video services. As part of this alliance, Vscreen will record all Xplode Conference content for distribution on the web and elsewhere. Conference content streaming is also planned for late 2011.
Xplode Founder Matt Fagioli says "Vscreen & Xplode will provide a complete library of real estate technology & marketing information for all industry professionals that covers video, mobile, social media, consumer search, IDX, CRM and a host of other must-have technologies"
In addition, Xplode is proud to welcome VScreen's Stephen Schweickart as a featured video marketing speaker. Schweickart joins our roster of nationally recognized experts for the ongoing series of Xplode! real estate technology conferences in 2011.
"The power of video in real estate marketing is unparalleled," said Fagioli, "Vscreen's expertise and cutting edge technology will be an invaluable addition to our efforts to equip and train conference attendees."
VScreen, located at Universal Studios Florida, specializes in custom video content for B2B and B2C applications within the real estate industry, including video for websites, social media, and mobile applications. Schweickart welcomed the invitation to be part of Xplode!'s conference team, as well as the exclusive video services provider for Xplode's series of national conferences. According to Schweickart, "We're honored to become part of this powerful team of industry experts, and believe it's a perfect fit to address the expanding need for professional video within the real estate industry."
About Xplode
The Xplode Conference Series on Real Estate Technology is coming to a city near you!
The Xplode Conference is a product of Helives, LLC based near Atlanta, Ga.
Xplode builds great conferences for real estate in partnership with local associations & MLS organizations. After a super-successful launch event in Austin Texas on February 10, 2011, Xplode is featuring real estate conferences on technology in a host of US cities in 2011.
The spring series includes Destin (Fl) on May 19th,Orlando (Fl) on June 9th and Washington DC on June 23rd
Xplode plans fall 2011 events including Dallas (Tx), Chicago (IL) & Atlanta (Ga)
Xplode Conference also highlights the most powerful real estate technology & marketing products. Sponsors include Market Leader, Mobile Real Estate ID, vScreen, RPR, Realtor.com, Zillow, Homefinder, Exit Realty, NCI, Diverse Solutions and more.
For more information, please visit XplodeThis.com
About VScreen
VScreen is a leading Internet video strategy firm and cutting-edge production studio, offering turnkey video solutions for companies looking for the latest in syndicated consumer video content, custom video production and video search engine optimization (SEO). Specializing in vertical markets such as real estate…VScreen is the trusted video source for the most reputable national brands and dot coms within their respective industry, serving clients such as Yahoo! Real Estate, REALTOR.com, Zillow.com and many others.
###