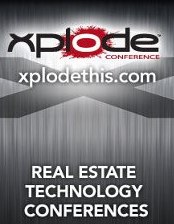 Expect 100x return on this investment!
Atlanta, Ga (PRWEB) October 31, 2011
Xplode Conference announced today that it will host the final Xplode real estate conference of the year on December 1, 2011 at Gwinnett Center in Duluth, Ga. The host sponsor for Xplode Atlanta 2011 is FMLS. Other contributing sponsors include GAR, NAMAR, The I85 Board of Realtors, GAMLS, Market Leader, RPR and others
Xplode Conference is a powerful, one day conference on real estate marketing & technology. The conference features 20+ amazing speakers from all over the US & Canada. Attendees also have exposure to the finest real estate technology products and services.
Xplode Conference founder Matt Fagioli said "Real estate marketing is all about return on investment. If you spend a dollar, you better be making $5 in return. Xplode conference is the best $99 you've ever spent on your real estate business. Expect a hundred fold return on your investment"
The full day conference opens and closes with some of the best networking you'll find all year long. Fagioli said "Hundreds of Realtors from metro Atlanta & all over the south will be on hand. That doesn't happen very often and you've really got to take advantage"
Cantey Davis, President of First Multiple Listing Service. said "Our members look to us to provide platforms and venues that can help them become more profitable by exceeding clients' needs and expanding their base. Xplode Atlanta is one such venue. FMLS is exceptionally proud to sponsor this event, promoting greater business success through use of new technology."
"To succeed in today's market, you have to leverage technology to connect with clients and grow your business. You have to be willing to look at the 'Way We've Always Done It" and then quickly convert that to "The New Way We're Going To Do It- Quicker & Better!" You have to be willing to push yourself out of your comfort zone a bit. Mobile computing, video and social media marketing and other tech tools are critical to defining one's brand, extending client outreach and working smarter. Xplode Atlanta is a must-attend event." says Denise Gryder, Executive Vice President of FMLS.
Xplode is also proud of it's partnership with the Georgia Association of Realtors. GAR certainly recognizes the power of technology in the real estate business.
"In the past 10 years, advances in technology have changed the landscape of real estate forever, so it's crucial for REALTORS® to be up-to-date on the dynamic world of technology. GAR is excited to partner with Xplode to bring cutting-edge technology education to our members." ~ Bill Boatman, 2012 GAR President
About Xplode Conference
Xplode is a leading promoter of conferences and events for the real estate industry.
Xplode hosts great conferences all over the US on the subject of real estate marketing & technology. Our 5 core areas of content are video, mobile, social, search & systems.
Xplode Conference is a product of Helives, LLC based near Atlanta Ga
Find Xplode on Facebook at Facebook.com/XplodeThis
About FMLS
First Multiple Listing Service ® (FMLS) is the largest and most prestigious multiple listing service in the state of Georgia since 1957, representing more than 30,000 members from all real estate specialties including residential sales, commercial sales, development, property management, appraisal and auctions. Check out our state-of-the-art technology, tools and training by visiting us online at http://www.fmls.com.
###