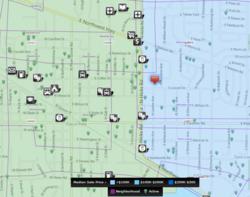 average list price for single family homes remains low in $200k range, the prices are trending up and will be expected to grow in 2013
(PRWEB) January 08, 2013
Winstone Park subdivision in Palatine, IL located on the east side of downtown Palatine. It is conveniently located next to the Cutting Hall Performing Arts Center, United Shipping Solutions, Palatine Public Library, School of Metaphysics and the Palatine Metra Station. Palatine real estate market in the Winstone Park subdivision has been very active. In 2012, there were 84 units sold with an average sales price of $225,000. The average time to sell a home in Winstone Park is 119 days. List price ranges from $44,000 to $469,000 across all property types. Most of the foreclosures and short sales were in the lowed price range under $230,000. The upper price range was 90% traditional sales, which indicates a healthy and recovering real estate market in Winstone Park subdivision. Out of 84 total units sold in 12 month, 80 of them were single family homes averaging $234,000 list price. While average list price for single family homes remains low in $200k range, the prices are trending up and will be expected to grow in 2013.
There is only 24 unit actively for sale on the market, those listings average $247,000 list price. In the past week there was only one new listing added to the listing inventory. That is fully renovated 3 bedrooms, 2 bathrooms ranch home at 444 E Lincoln St , Palatine, Illinois 60074. Listed by top northwest real estate team it is priced at $274,900. John Herman team reported that the first 2 days on the market this listing already received 3 showings and multiple people market it as interested. John Herman described this home as, "Move in condition and then some! Awesome Kitchen with Stainless appliances, custom cabinets and granite. Bathrooms are what everyone wants! Master bath has big walk-in closet family room with new Unilock deck off the sliding glass doors! Finished basement! New windows, driveway, electrical, carpet, doors, Hardwood floors! You walk to the grocery store! Also close to schools, train and much-much more!" View this home's virtual tour here http://www.youtube.com/watch?v=12h7fAg2g0w
If you interested in this listing or you would like more information on Palatine real estate calls 847-847-4711. John Herman team offers his buyers and sellers real estate services.