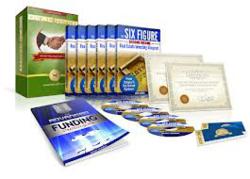 SFSI Blueprint purports to be an exact step-by-step system to...flip [houses] for an average of $20,000 profit.
(PRWEB) October 17, 2012
Says Lindahl about his Six-Figure, Second-Income Blueprint program, "Despite the recession, you no longer have to accept 'average'. There is a better way".
SFSI Blueprint purports to be an exact step-by-step system to determine target investment areas, analyze a property correctly, secure purchase funding, and establish, in advance, a list of hungry cash buyers to whom to flip for an average $20,000 profit.
MakeMoneyWithRealEstateInvesting.com webmaster Vince DeStefano has been around the real estate block, and offers some key insights into Lindahl's system. About Lindahls' SFSI, DeStefano states "Today, the real estate market is absolutely ripe for finding deals and instantly securing many thousands in profit. I'm tempted to try Lindahl's approach personally, though I've settled profitably in my own business model of buy-fix-rent for cash flow. Lindahl's emphasis is flip for profit, which is infinitely more exciting."
Vince continues, "Nearly every day I have a conversation with someone new about how they feel trapped in their day job, their dependency on a dissatisfying job and salary/wage, uncertainty of future employment, and overall anxiety over the prospect of keeping the bills and mortgage paid. For my own part, I've preached the merits of my personal investing system to these people. When I saw Lindahl's program, as advertised on Glenn Beck's theblaze.com, I have to admit I started salivating over the notion of adding flip-profits to my existing model of passive rent income."
Lindahl is not new to the real estate industry any less than his name is ubiquitous in the real estate investing realm. The Six-Figure, Second-Income Blueprint is just his latest provision, and has the makings of a very successful system by which "ordinary" folks can do very well for themselves financially.
Click Here for more information on the Six-Figure, Second-Income Blueprint by Lindahl, or HERE for the review.