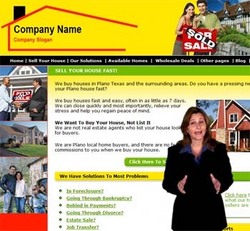 Our daily goal is to deliver the most effective, results-driven, feature-packed real estate investing websites at prices all real estate investors can afford
Plano, TX (PRWEB) February 2, 2010
A real estate investing and web development company, RealEstateInvestorsWebSites.net has unveiled an upgraded version of their real estate investing websites.
Being fully database-driven and interactive, the websites are created for the successful real estate investor and are fully adaptable to suit any business model – buying houses, selling houses, wholesaling houses, seeking private money, or any of the popular real estate investing business models.
Most real estate investors are not internet savvy, so these websites are easy to manage from a virtual back office, with the front end being free of maintenance.
And having over 100 customizable designs to choose from, real estate investors can now have a website completely unique to their needs, with integrated email autoresponders and automation capabilities un-equalled in the industry as well as marketing landing (squeeze) pages created on the fly.
"Our daily goal is to deliver the most effective, results-driven, feature-packed real estate investing websites at prices all real estate investors can afford."
With the introduction of a real life-like virtual spokesperson, website prospects are presented with a down-to-earth simple, believable sales message designed to convert prospects to closed deals.
Most importantly, the websites are fully optimized for search engines and come with an integrated fully optimized Wordpress blog that notifies major search engines whenever fresh content is posted.
The blog also notifies other content syndication blogs that re-print people's content so they may re-print posted content thereby automatically creating back links to the websites, boosting search engine rankings.
For more information visit: http://www.realestateinvestorswebsites.net/
###