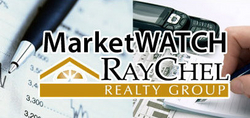 While we did get some good signs in the fourth quarter of 2008, the data this month is mixed at best
San Mateo, CA (PRWEB) February 17, 2009
The RayChel Realty Group's January monthly San Mateo County Real Estate Price Report, released today, shows an air of hope in a market that is trying to find its footing. In year-over-year comparisons the average price has dropped 56.7% while number of transactions under contract increased by 56.4%.
"While we did get some good signs in the fourth quarter of 2008, the data this month is mixed at best," says Raymond Stoklosa, President of The RayChel Realty Group. "REOs and short sales have dominated the market, which may be a strong contributor to the price erosion we are seeing this month."
Further analysis of the data reveals a reason for the remarkable drop in average prices. Of the 163 single family homes sold in January, 53.4% of them were either bank owned properties or short sales. "With so many distressed homes on the market, smart sellers are going to have to give the buyer a compelling reason to buy their home instead of someone else's," concludes Raymond Stoklosa.
Although prices are down, there is still good news to report. "Many transactions today are investor-driven and savvy investors see today's buyer's market as an opportune time to buy," said Raymond. "This is also a great market for first time buyers who can get into the Bay Area market for much less than they could in years past."
A complete version of The San Mateo Real Estate Price Report for January 2009 can be viewed at LivingWellinSanMateo.com/san-mateo-market-reports/.
The RayChel Realty Group's San Mateo Real Estate Price Report is based on data compiled from MLS Listings, Inc.
San Mateo County data on average price, median price, number of homes sold, current inventory, new listings, sales under contract, percent list price received, average days on market and total sales volume are analyzed on a monthly basis
###