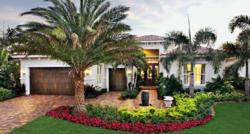 Sales are strong across the board
Palm Beach Gardens, Florida (PRWEB) June 14, 2012
The housing market is showing signs of steady revitalization throughout Palm Beach County, according to the Realtors® Association of the Palm Beaches. Real estate prices have stabilized, if not increased. Housing starts have risen 22% from a year ago, and single-family home sales continue to surge.
Whatever the reasons behind this promising real estate news, Old Palm Golf Club is riding high on the wave of buyer confidence. Sales are excellent and have been for quite some time. Model homes often sell quickly after opening. Home sites are also in demand, so much so that Old Palm recently had to release a collection of previously unavailable lots in the Golf Estates to meet the ever-increasing interest in the community. In addition, numerous new homes are under construction in all three Old Palm neighborhoods, a welcome sign that Old Palm has an ideal luxury home for every sort of buyer.
"Sales are strong across the board," says Connie McGinnis, Director of Sales. "Several models in our Golf Estates sold just weeks after becoming available. And there are more homes under construction in our Grand Estates and Custom Estates than any time in the past five years. The message is clear—if you want to live in Old Palm, now is the perfect time to make your move."
In the Golf Estates, where homes range from 3,400 to 5,000 square feet, Mustapick Estate Homes quickly sold its first Monaco and Marseilles models and is now building two more in the neighborhood. For buyers seeking something different, Mustapick designed a brand-new British Colonial-style model called the Martinique, which features abundant shutters and French doors. It makes for an ideal golf retreat or weekend getaway home.
In the last few weeks alone, yet another model home sold in Old Palm's Grand Estates neighborhood. The Ashford by Hasey Construction boasts a magnificent 6,394-square-foot layout with five bedrooms, six full and two half baths, a club room and a loft on the partial second floor that can be reached by stairs or elevator. With the pool directly behind the living room and an open cabana just beyond the pool, the look is classic Palm Beach.
In addition, Hasey will soon start construction on another home in the Grand Estates. The buyers just closed on the home site, and details of their custom home are being finalized.
Sales are also brisk in Old Palm's extraordinary Custom Estates neighborhood, where the homes range from 7,000 to more than 15,000 square feet. The home sites average one full acre; all of them with a golf course, water or preserve view.
Dreamstar Custom Homes is currently incorporating specifications from the new owners' into one of its Tuscan designs in the neighborhood, a sprawling one-story residence that will overlook the 16th green of Old Palm's spectacular Raymond Floyd-designed golf course. The home will feature five bedrooms, seven full and one half bath, and numerous green elements such as hot water on demand, variable-speed air-conditioning systems and reclaimed brick from New Orleans.
"The marketplace has definitely come back," says Brett Handler, Dreamstar's Founder, "and no where is that more evident than at Old Palm."
Couture Lifestyle Homes is also building a spectacular home in the Custom Estates on a magnificent one-acre home site. It's exceptionally private as it sits at the end of a cul-de-sac with preserve views on two sides. Designed to take full advantage of the setting, the one-story estate home has plenty of windows and sliding glass doors in the family room that pocket, resulting in a seamless flow between the indoors and outdoors. Scheduled for completion in the next six months, this new Couture Lifestyle Homes model features five bedrooms in its 7,450 square-foot layout.
"There are so many positive forces in play," says McGinnis, regarding the re-energized real estate market, "and the interest in Old Palm continues to increase every day. We were always confident that when the market started to recover, Old Palm would be among the most highly sought after private Club communities. That day has come, and as expected sales have taken off."
About Old Palm Golf Club:
Old Palm Golf Club stands alone as the premier private Club community in the Palm Beaches, with new estate homes ranging in price from $1.3 million to more than $15 million. This gated enclave boasts some of the best golf in the Southeast. Situated in the heart of the community is a clubhouse offering formal and informal dining, luxurious amenities including a full-time concierge, fitness studio, spa, pool, Club Casitas and world-class staff. The Raymond Floyd signature championship golf course and Golf Practice Studio reflects his passion for the game. It is ideally located in the heart of Palm Beach Gardens with close proximity to a wealth of luxuries and conveniences, including both Palm Beach International Airport and North County General Aviation Airport, which accommodates private jet airplanes. Old Palm enjoys sound financial security and stability, as it is managed by Clarion Partners, a leading real estate investment firm. More information about Old Palm is available at http://www.oldpalmgolfclub.com