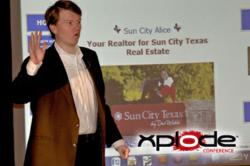 Your Website is about to be Shredded!
Atlanta, Ga (PRWEB) June 29, 2011
Xplode Conference announces our extended partnership with Eric Stegemann & Tribus, a leading technology provider in the residential real estate industry, to deliver the popular 'Website Shredder' sessions at upcoming Xplode Conferences in Chicago, Dallas & Atlanta.
Xplode Founder Matt Fagioli says "The Shredder is always one of our most popular sessions at Xplode and we're really glad to have Eric with us for the rest of 2011 and beyond"
"Xplode Conference is an amazing opportunity for improving performance for real estate professionals" said Eric Stegemann, VP of Business Development at Tribus. "We are proud to partner with Xplode to provide the latest tools, technology and education for real estate."
In addition, Xplode is proud to welcome Eric Stegemann as a featured technology and marketing speaker. Stegemann joins Xplode's roster of nationally recognized experts for the ongoing series of Xplode real estate technology conferences in 2011.
"In setting the content that I would provide for Xplode, I wanted something that was unique, and would provide immediately actionable material for attendees, I believe Shredder does all of that with a bit of humor mixed in," commented Stegemann.
"The power of technology in real estate marketing is exploding," said Fagioli, "Eric's expertise and effective speaking style will be an invaluable addition to our efforts to equip and train conference attendees."
Don't miss the very next Xplode Conference in Chicago, IL on August 19, 2011
About Xplode:
The Xplode Conference Series on Real Estate Technology is coming to a city near you!
Xplode Conference is a product of Helives, LLC based near Atlanta, Ga.
Xplode builds great conferences for real estate in partnership with local associations and MLS organizations.
After our super-successful launch event in Austin Texas on February 10, 2011, Xplode features real estate conferences on technology in a host of US cities in 2011. The spring series includes Destin (FL) on May 19th, Orlando (FL) on June 9th and Washington DC on June 23rd. Xplode plans fall 2011 events including Dallas (TX), Chicago (IL) and Atlanta (GA). Xplode Conference also highlights the most powerful real estate technology and marketing products. Sponsors include Market Leader, Mobile Real Estate ID, vScreen, RPR, Realtor.com, Zillow, Homefinder,
NCI, Diverse Solutions and more. For more information, please visit XplodeThis.com
About Tribus:
Based in Orange County, CA, Tribus Real Estate Technologies offers a full suite of tools focused on the real estate brokerage and mortgage industries including custom websites, SEO, CRM, drip/blast email, customer insight and more. The company desires not only to provide the latest tools and technologies, but also assists with the implementation and long term usage to ensure an increase to client's bottom line.
###