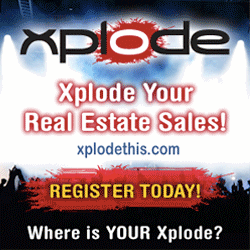 Exit Realty rocks Xplode Conference
Atlanta, Ga (PRWEB) May 03, 2011
Xplode Conference announces a new 2011 title sponsorship agreement with EXIT Realty Corp. International, one of the fastest growing real estate companies in North America.
Xplode Founder Matt Fagioli says, "EXIT really 'gets it'. They are digging deep on technology and we're excited to be working with them."
"At EXIT Realty, we focus on providing a better quality of life for our agents," said Tami Bonnell, President of the U.S. Organization of EXIT Realty Corp. International. "We are proud to partner with Xplode to provide the latest tools, technology and education for real estate professionals."
In addition, Xplode is proud to welcome EXIT's VP of Technology and Innovation, Jeff Lobb, as a featured technology and marketing speaker. Lobb joins Xplode's roster of nationally recognized experts for the ongoing series of Xplode real estate technology conferences in 2011. Jeff Joins us starting with our Destin Florida & Orlando Florida conferences
"With the dramatic shift of consumers having so much information and data at their finger tips, real estate professionals need to be better equipped with devices that can provide them with data on demand, where they stand," said Lobb. "Consumers want information now, they want more educated REALTORS® and they want to see more visual presentations. That's our focus; it's all about the consumer and their experience."
"Jeff stays on top of the latest and greatest in technology and delivers education in a way that everyone can absorb and apply to their business today," commented Bonnell.
"The power of technology in real estate marketing is exploding," said Fagioli, "Jeff's expertise and effective speaking style will be an invaluable addition to our efforts to equip and train conference attendees."
About Xplode
The Xplode Conference Series on Real Estate Technology is coming to a city near you! The Xplode Conference is a product of Helives, LLC based near Atlanta, Ga. Xplode builds great conferences for real estate in partnership with local associations and MLS organizations. After a super-successful launch event in Austin Texas on February 10, 2011, Xplode will be featuring real estate conferences on technology in a host of US cities in 2011. The spring series includes Destin (FL) on May 19th, Orlando (FL) on June 9th and Washington DC on June 23rd. Xplode plans fall 2011 events including Dallas (TX), Chicago (IL) and Atlanta (GA). Xplode Conference also highlights the most powerful real estate technology and marketing products. Sponsors include Market Leader, Mobile Real Estate ID, vScreen, RPR, Realtor.com, Zillow, Homefinder, NCI, Diverse Solutions and more.
For more information, please visit XplodeThis.com.
About EXIT Realty
EXIT is a proven real estate business model that supplies single-level residual income - for agents, security, stability and direction; for agents' families, security in the form of beneficiary and retirement residuals. Our state-of-the-art technology, including the Digital Marketing Strategy, gives our agents the edge in a competitive marketplace. EXIT is a by-invitation-only company focusing on the business of real estate. A portion of every transaction fee collected by EXIT International is applied to its charitable fund. To-date, $2 Million has been pledged to Habitat for Humanity. For more information, please visit http://www.exitrealty.com.
###