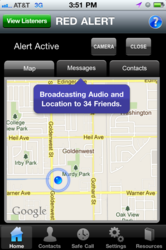 "It's the app that we'd want our friends and family to have if they were ever in trouble." -RealHelp founder, James Medina
Newport Beach, CA (PRWEB) August 16, 2012
The RealHelp App uses the power of your social network to stop would-be rapists and abusers.
RealHelp, now available for the iPhone, may be the most powerful entrant among so called "Rape Apps". With the touch of a button it's capable of notifying dozens of pre-selected contacts that the user is in trouble, broadcasting audio live from the user's phone, and sharing the user's location. "Contacting so many people greatly increases the chance that someone's close by and in a good position to come to your aid." explains RealHelp's founder, James Medina. Even if no one is close by, those contacts can listen in, assess the situation, then direct emergency services to the user's location. Any contact who misses the notification will still be taken to an archived recording of the alert session. "Pretty much from the moment that alert is triggered, a potential rapist or abuser's chances of getting away with anything drops to near zero," says Mr. Medina.
The RealHelp App was built on the theory that rapes happen because the perpetrators think they can get away with them. It's unfortunately all too easy for a rapist to argue consent after the fact if there were no witnesses. The egregiousness of the crime makes it harder for people to believe that someone they know could do it. Consequently rape victims face the possibility that they may be accused of maliciously lying if they report the rape. The RealHelp App does everything it can to destroy any chance that a potential rapist or abuser can get away with anything.
RealHelp is easy to set up and easy to use. A user can load contacts quickly using his or her Facebook account. They can then specify what levels of alerts each contact receives, and how those contacts will be notified. The alert levels inform all alert recipients as to the severity of the situation and how they should respond. For example, Red Alerts include the script: "I need help now! Come right away and listen in." In a potential crisis, the user can load the app, swipe one of three alert levels, and the contacts set to receive that alert level will receive notifications connecting them to the live alert session. The alert session includes a live updated map of the user's location, streaming audio from the user's phone, pictures taken by the user, and a chat session where RealHelp App users can coordinate. If the user's friends don't have the RealHelp App to receive push notifications through; they'll still be able to receive notifications through Facebook messages, Facebook wall posts, or email. The Facebook and email notifications will include a link to a mobile optimized web based alert session. "The important thing is that your contacts are able to respond to an alert effectively, whether they have the app or not. Every one of those Facebook notifications should trigger push notifications for smart phone users with a Facebook App. Even if you're the only RealHelp user you know; you should be able to light up dozens of people who care about you, and give them the tools they need to respond." explains Mr. Medina. For a more visual look at how RealHelp works, there's a graphic step by step guide on RealHelpApp.com.
While any app on an iPhone may have its limitations, RealHelp stands out as a powerful tool; capable of using your social network to get a real world response, and create real world consequences for anyone who might seek to victimize a RealHelp user. RealHelp's founder has this to say: "We thought through the scenarios we're targeting and tried to tailor RealHelp to be as useful as possible in every situation. It's the app that we'd want our friends and family to have if they were ever in trouble. Ultimately, we're hoping that RealHelp can keep a lot of people from being victimized." RealHelp's team goes into more detail on why they built the app here: Why RealHelp Works.
RealHelp is currently available for the iPhone, and an Android version is slated for the next few months. It's completely free to download and use indefinitely, but they're hoping that users will donate to support it. Interested parties can learn more at RealHelpApp.com.
About The RealHelp App
The RealHelp App, free for the iPhone, is designed to head off potential emergency situations by instantly notifying dozens of preselected friends, and broadcasting audio, location, and pictures to them in real time. For more information, go to RealHelpApp.com.