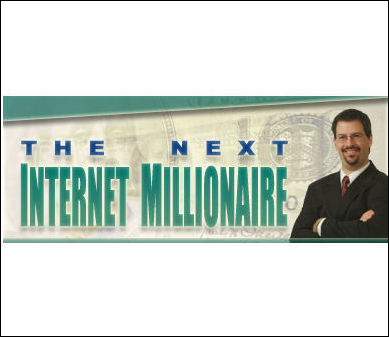 Loveland, CO (PRWEB) April 27, 2007
Twelve-year Internet veteran and New York Times best-selling author, Joel Comm, today announced auditions for his new web reality show, "The Next Internet Millionaire." Before a packed house at Armand Morin's Big Seminar, a leading Internet marketing conference event currently taking place in Atlanta, Georgia, Comm premiered the trailer for this revolutionary new program that will bridge the gap between new and old media.
Filming in July and August of this year and set to air worldwide for thirteen weeks in the fall, The Next Internet Millionaire will seek to find the best new entrepreneurial talent who will then be competing for a cash prize and an opportunity to partner with Joel Comm in a new joint venture that could generate millions of dollars.
In his past twelve years online, Comm has sold a site to Yahoo!, written several popular books, including the New York Times Best Seller "The AdSense Code", and built many successful web sites that have earned him millions of dollars on the Internet. One of the most respected marketers on the web, Comm will be hosting the show which intends to prove the Internet as a viable means of broadcasting new programming.
"The success of shows such as Survivor, The Apprentice and American Idol prove that reality TV has become a dominant entertainment force" says host Joel Comm. "YouTube, Google video and numerous other video sites have demonstrated that the web is the new video delivery medium. The Next Internet Millionaire combines the best of reality television with a new technology slant that will appeal to millions of viewers eager to embrace Internet-oriented entertainment. While focused on the opportunity to earn money online, our intense competition and fast-paced program will appeal to a broad audience seeking to view weekly serial entertainment at their leisure."
An open casting call for The Next Internet Millionaire has now started, and prospective contestants may visit http://www.NextInternetMillionaire.tv for further instructions on how to submit their audition video via online video services. The official show site will launch on Wednesday, May 9th, 2007, and will contain detailed information on the program.
After selecting twelve people from the audition videos, contestants will be brought on location for a two-week intensive experience and competition where they will learn the techniques and strategies of the Internet professionals who regularly earn millions of dollars online every year. The Next Internet Millionaire will feature guest teacher appearances by a dozen experts, including best-selling author Mark Joyner, Internet tycoon Armand Morin and copywriting legend Marlon Sanders. Contestants will face new challenges each day that will put their newfound knowledge to the test.
The Next Internet Millionaire is a joint venture between InfoMedia, Inc and Deluge Films of Northern Colorado. InfoMedia, Inc. is a new media company based in Loveland, Colorado. Providing a twelve-year track record of building profitable Internet sites, InfoMedia leads the way in innovative, entertaining and educational uses of the Internet.
To interview Joel Comm, for sponsorship opportunities or for more information, contact InfoMedia, Inc. (970) 278-0011 or visit http://www.NextInternetMillionaire.tv
# # #