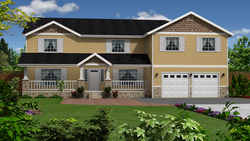 Built On Your Site Starting As Low As $49,900!
Tacoma, WA (PRWEB) April 13, 2011
Reality Homes Inc. experiences an 11% increase in construction in 2011!
Change has not only made Reality Homes a successful company in the good times, it has also allowed them to realize success in construction despite current market conditions, by seeing a 11% increase in homes put into construction in 2010 over the 2009 building year.
"Change is what got us started", says Lowell Hankel – VP of Reality Homes! Reality Homes was founded in late 2001 when the housing boom was just beginning to take off. At that time there were only a handful competing in the Built on Your Site Puget Sound home construction market. Reality Homes realized something was missing, and that something was permitting the Homebuyer to put there thumb print on their new home by allowing custom plan changes.
"We did just that", says Lowell. From day one Reality Homes has allow their clients to make Custom plan changes, creating personally Customized, yet surprisingly affordable homes, Built on Their Site, starting at just $49,900.
Change anything you want, that's the beauty of working with a Truly Custom Built on Your Site home builder. Ninety percent of their home buyers make some sort of Custom plan change. It may be moving a wall or window, adding a patio cover, Increasing the size of the home, adding third car garage, a daylight basement, or just about anything else they can think of to personalize their new home.
Reality Homes commitment to satisfying their customer's wants and needs has made Change a focal part of their business. They have and will continue to negotiate Change with their supplier and vendor partners, allowing for improved features and products as they become available. They have and will continue to Change and keep up to date with the most current building codes and standards. They have and will continue to Change our processes and procedures to provide the best experience possible for their homebuyers.
Visit us on-line @ http://www.realityhomesinc.com and request your Free color brochure!
"Our Homebuyer is our Customer, they are our Future, and our Future is about Change" says Hankel.
# # #