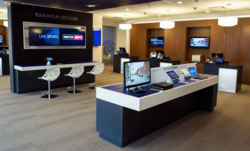 MIDDLETOWN, Conn., (PRWEB) May 02, 2013
Reality Interactive, a full-service digital merchandising agency, announced that they are serving as the digital media partner for Time Warner Cable's experience stores launched in over 14 cities across the nation.
Time Warner Cable experience stores provide customers with these dynamic, engaging, interactive digital media experiences and demos in-store:
Passion Focal Wall – High impact, interactive, two-screen experience with video and dynamic imagery selected by customer via tablet.
Learning Bar – Interactive bar with customer-focused tutorials and product demonstrations on a variety of devices.
Rep Station – Walk-up station with digital signage display and tablet highlighting relevant offerings to customers during face-to-face contact with Time Warner Cable representatives.
Inspired Living Area – Comfortable home seating area with three screens and a tablet for demos of Signature Home™ and IntelligentHome applications.
"Reality Interactive has been a great partner to work with on this important retail initiative. They bring a very high level of expertise in the creation of compelling, retail-rugged interactive experiences for our customers," said Tom Crowell, VP of Retail Strategies and Partnerships at Time Warner Cable. "We think they do the best job of bringing our products and services to life at retail."
Time Warner Cable has opened stores in New York, California, Kansas, Missouri, North Carolina, Ohio, Texas and Wisconsin. Nine more stores will open before the year's end.
The experience stores support Time Warner Cable's mission to "connect people and businesses with information, entertainment and each other [and] give customers control in ways that are simple and easy." Each digital media experience area in the store is designed to engage, entertain, and educate customers about the Time Warner Cable services that empower them to Enjoy Better their favorite TV shows, internet sites, or phone conversations.
"Time Warner Cable has so many great offerings and services," said Craig K. Martin, CEO, Reality Interactive. "It's been a pleasure for our team to translate such a great brand story into a compelling digital in-store experience."
The overall store experience is a partnership between architect Ware Malcomb, brand marketing agency FAME, digital merchandising agency Reality Interactive, and video production firm Reality Pictures. Reality Interactive contributes content development, infrastructure engineering & design, and remote management for all digital media aspects of the store.
About Time Warner Cable
Time Warner Cable Inc. is among the largest providers of video, high-speed data and voice services in the United States, connecting more than 15 million customers to entertainment, information and each other. Time Warner Cable Business Class offers data, video and voice services to businesses of all sizes, cell tower backhaul services to wireless carriers and, through its NaviSite subsidiary, managed and outsourced information technology solutions and cloud services. Time Warner Cable Media, the advertising arm of Time Warner Cable, offers national, regional and local companies innovative advertising solutions. More information about the services of Time Warner Cable is available at http://www.timewarnercable.com, http://www.twcbc.com, http://www.navisite.com, and http://www.twcmedia.com.
About Reality Interactive
Reality Interactive is a digital merchandising agency specializing in design, development and management of content and infrastructure for digital merchandising initiatives (kiosks, digital signage, mobile applications). Clients include strong brands and companies aiming to influence customers at the point of purchase. Reality Interactive connects consumers to brands and educates them about new and existing products to influence their present and future purchasing decisions. Find more information about Reality Interactive at http://www.realityi.com.