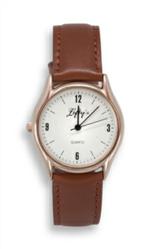 We've had dozens of requests from both the web site customers and store customers for a watch with the stem on the left. Finally, we decided to commission some ourselves, and are very proud to announce the arrival of these watches. - Margaret Majua, Owner
San Francisco, CA (PRWEB) October 16, 2011
At the request of our customers, leftyslefthanded.com has commissioned a signature line of fashionable and affordable Real Left-Handed Watches with the winding stem on the left side of the face. Though many lefties wear their watches on their right wrists, almost all watches have their stems on the right side of the watch face, making them awkward and difficult for left-handers to use. After years of searching for an existing product, Lefty's decided to work with a watch company to create this collection: Real Left-Handed Watches.
Lefty's new watch collection features large, easy-to-read dials, styled to appeal to both men and women. Priced at $44.95, these sturdily constructed quartz movement watches make a perfect gift for a left-hander.
Lefty's Real Left-Handed Watch line is available in 3 styles: the classic black alligator leather band with a brushed chrome face, the sportier brown leather band with a brushed rose gold face, and the fun and mind-bending backwards mirror watch in brushed chrome with an expandable chrome band. All watches carry a one year warranty.
Lefty's also carried a selection of other left-handed watches: the Invictas, with very large high tech faces, showing multiple dials, available at a higher price point; the handsome Leonardo da Vinci backwards watches, printed with face of one of history's most famous lefties; and our fun and fashionable backwards watches with hands that run counter-clockwise. Of these, only the Invictas are made with stems on the left.
For many left-handers, counterclockwise motion is more intuitive - but this "backwards" motion is confusing to righties. Leonardo da Vinci invented "mirror writing" where letters are printed backwards and also read from right to left, and he often used this as a type of code because only certain lefties can read it. Several of our watches also have the numbers written mirrored - the ultimate lefty mind-benders.
With this attractive new line of TRUE left-handed watches, shipped in a handsome black gift box, Leftyslefthanded.com now has a watch for every lefty. Available at leftyslefthanded.com, or at our stores in Pier 39, San Francisco, The Marketplace at Downtown Disney, Lake Buena Vista, FL, or Old Town, Kissimmee, FL.
# # #