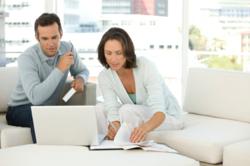 Now, people of all income levels can afford fast, reliable, honest answers to their legal questions from an attorney who is licensed to practice in the user's state and area of law.
Palm Desert, CA (PRWEB) October 20, 2011
LawSimple.com, a new website dedicated to bringing consumers affordable and confidential legal advice, is challenging the old legal business model of spending hundreds of dollars to speak with an attorney. Now, people of all income levels can afford fast, reliable, honest answers to their legal questions from an attorney who is licensed to practice in the user's state and area of law.
When asked about the new website, Bahman Eslamboly, co-founder of LawSimple.com, says, "We are really doing something unique and revolutionary. We're giving legal advice online for a small fee. It's an alternative to having to go through the hassle of finding an attorney and pay them $300 to $500 an hour. Our concept falls somewhere between free advice and hiring an attorney. We saw this need from our free users who wanted more."
LawSimple.com is a safe and private resource for people who would like inexpensive access to legal advice at the tip of their fingers. All questions and answers are confidential and covered by attorney-client privileges. The questions on LawSimple.com are answered by attorneys who are licensed to practice in the user's state and area of law and, because users are only charged if they accept the attorney's answer, high-quality answers are guaranteed. Clients also have the ability to ask follow-up questions before being charged.
"One of the cornerstones of our system is we offer a limited scope of representation that protects the attorney and the user. The attorneys are not obligated to represent users in their cases, write letters for them and go to court on their behalf. The answer they provide is only about the particular issue or question asked. This allows attorneys to offer advice that is more discounted. In the past, they might have been reluctant to get involved for a lower fee for fear of being on the hook for the whole case," says Eslamboly.
The lawyers who participate on LawSimple.com come from all 50 states and have widely diverse areas of practice. In order to register with LawSimple.com, lawyers must be licensed in the state where they will answer questions. Many of the lawyers in the network have worked with the company for over ten years.
"The recession, coupled with advancements in technology, is causing a real shake up in the legal industry. A lot of attorneys are scrambling trying to figure out what their business will look like in 10 to 15 years. Unlike some other sites you see out there, LawSimple is not trying to replace what lawyers do and take a chunk of their business, but to give them another forum to market their expertise and expand their practices. We are actually helping a lot of attorneys get involved in the Internet and capture business that would otherwise have been shut out. We would be nowhere without attorneys. They are the lifeblood of LawSimple," says Steve Martinez, LawSimple's Director of Business Development.
The creators of LawSimple.com made it their mission to create a resource that consumers could actually use. Most Q & A sites advertise their answers as legal advice but add disclaimers in small print stating that answers provided through their site are for "entertainment purposes only and should not be considered actual legal advice." Unlike other Legal Q&A services, when a LawSimple.com attorney answers a question, it is covered by a Limited Representation Agreement—meaning that it is considered real legal advice in the eyes of the legal system.
"Designing a system to comply with the regulations and laws in all the states was extremely challenging. But it has always been our mission to improve and increase the public's access to affordable and reliable legal resources. The legal profession is at a crossroads, and we hope to help lead it in the right direction," says Eslamboly.
About LawSimple.com
LawSimple.com was launched in 2011 as part of the LawGuru.com network—one of the most popular legal Q & A websites since 1997. LawSimple.com is dedicated to providing consumers with affordable and confidential legal advice. All advice on LawSimple.com comes from licensed attorneys practicing in the state where the question is asked. For more information, visit: https://www.lawsimple.com/.
###