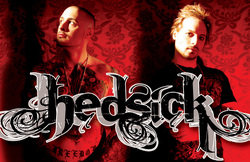 New York, NY (Vocus) September 2, 2008
Really Hot Music Founder & CEO Anthony "Sire" Martinez announce today the completion of the first album for Rock Hip Hop Group HEDSICK, Really Hot Music's first multi-platinum potential music group. The album titled "Have It All" consist of 10 songs with several potential #1 billboard smash hits like "Fade Away", "Lately" and the self entitled "Have It All", all modern day rock hits that will easily become classics. Up tempo head banging smash hits like "I Like My Beat Turned Up" feat Kashmere from DMX's Bloodline Records and "Get Off My..." will keep listeners blasting their IPODS and car systems.
The Rock Hip Hop group HEDSICK consists of the infamous lyrist King Phaze, a former A&R of Ruff Ryder/Ruff Rock & Morris Tancredi, a Canadian track master and talented musician. The two combine to create a crash banging Beastie Boys meets Linkin Park sound. According to King Phaze HEDSICK is defined as "...Rock Hip Hop at its best! Artist and label executives have been selling out for quite some time now. Our sound screams freedom...throw ya middle fingers up! We're not wrapped too tight...lol! We're crazy and willing to take the 1st Amendment to the limit in a time when people are scared to speak!" Phaze and Morris also produced beats under their own company called Diamond Krownz Productions. Both are responsible for all the tracks on their HEDSICK Album as well as several of the new tracks on the DMX album "Walk With Me Now and You'll Fly With Me Later."
HEDSICK's album release date is set for November 2, 2008. Their music can be heard and reviewed at http://www.sonicbids.com/HEDSICK. Their first single "Lately" will be available for download September 5, 2008 at ITunes, Amazon and other available download outlets. Look for them as Really Hot Music's featured Artist at http://www.reallyhotmusic.com and follow their tour dates, and other events at http://www.myspace.com/reallyhotmusic.
Really Hot Music is a Miami/New York based multi-talented company with its own entertainment and management group, publishing group, indie label, modeling division and video production division. An empire in the making and sure to be the next Def Jam/Bad Boy, Anthony "Sire" Martinez is the Founder & CEO who holds the patent pending designs to curb music piracy and change the future of music distribution.
Media Contact Information
Tony Milian | Publicist
Really Hot Music
8306 Mills Drive, Suite 441
Miami, FL 33183
Tel: (305) 433-8074
Fax: (305) 434-8692
Email: publicist @ reallyhotmusic.com
Visit Online At:
http://www.reallyhotmusic.com
http://www.myspace.com/reallyhotmusic
HEDSICK Electronic Press Kit Access
http://www.sonicbids.com/HEDSICK
###