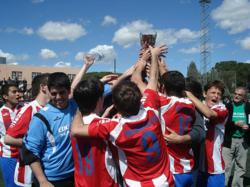 Playing against REAL MADRID is a dream come true for our EduKick Academy players. It does not get any more challenging than facing off against the famous white strips of REAL MADRID! We wish all our lads the best in the tournament.
~ Joey Bilotta
Madrid, Spain (PRWEB) December 16, 2011
EduKick International Football Academies academy soccer teams from England and Spain are set to meet Real Madrid's Under 18 (Juvenile) side for the second consecutive year. Real Madrid, champions of this Spanish youth tournament in 2011, are confirmed to return for the XXVI edition of the Youth Football International Championship "Alcala de Henares Cup", to take place in Madrid, Spain over the 5th to the 8th of April 2012.
Also participating for the fourth consecutive year is EduKick International Football Academies (EIFA) academy squads from Madrid and England. EIFA offers academic year international football academies that combine education and soccer for competitive players from 13 to 22 years old. EIFA currently has seven soccer academy venues across the planet including England, Spain, France, Italy, Brazil, Mexico, and Canada.
Last year both EduKick England and EduKick Madrid academy teams faced off against the famous Real Madrid side in first round group play, with EduKick England losing one to nil and EduKick Madrid losing three to two in a very dramatic match. REAL MADRID went on to win the tournament in a convincing display of possession football and precision passing.
Just one year earlier in 2010 it was the EduKick Madrid International Football Academy that claimed the championship title in the Under-18 age bracket. But that was before the Spanish giants decided to enter this traditional Easter soccer tournament in Madrid. Understandingly, EduKick footballers from both the England and Madrid academies are very excited to have an opportunity to play against one of the world's biggest and most popular football clubs.
The Alcala de Henares Cup tournament organizers were pleased to officially announce earlier this month that indeed "los blancos" will be participating once again in the 2012 in an effort to defend their title. Last year's tournament was very successful with teams from around Spain and Europe filling up the age categories. In last year's very competitive U18 bracket that REAL MADRID won, teams representing various regions of Spain and also England, Austria, and Scandinavia competed.
The Alcala de Henares Cup is somewhat of a family reunion for EduKick International Football Academies as EduKick Madrid once again welcomes "sister academy" EduKick England to Madrid for six nights at their academy residence located at the University of Madrid. EduKick Founder and V.P., Joey Bilotta and EIFA General Manager, Mr. Jon Morgan also attend this Spanish footy event annually. Bilotta and Morgan attend to visit all of the participating EduKick academy players and meet their visiting parents, who are also invited each year to attend this traditional and competitive Easter "futbol" tournament in Madrid.
Interested parties can learn more about EduKick Madrid International Football Academy by visiting their course E-Manual.
###