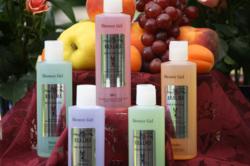 Realms' lotion is shea butter based, with coconut oil, sunflower oil, aloe and has a great satiny finish from silk protein.
Bellingham, WA (PRWEB) October 10, 2012
Realms Bath & Body Line is delighted to launch its little online store, filled with unique handmade lotions, shower gels, foaming hand soaps, shea butters soaps, shaving mug sets and room sprays – all made from the finest ingredients available.
"I began making lotion in my kitchen about five years ago," said Terry Kaye, creator of Realms Bath & Body Line. "I have sensitive skin and commercial products didn't always agree with me. The lotion I make now is thick and creamy, without being greasy."
Realms' lotion is shea butter based, with coconut oil, sunflower oil, aloe and silk proteins which produce a soft, satiny finish.
The line began with lotions and shower gels, and then expanded to foaming hand soaps, travel-size mini lotions, shea butter soaps, shaving soaps and room sprays. In addition to the variety of products, the number of scents keeps growing too. There are 17 so far and a special holiday scent is currently in the works.
"I've always loved experimenting with scents, ever since my best friend and I began making 'perfume' by crushing petals from her mother's prized rose garden," Kaye said, smiling. "Who knew it would blossom into this?"
Each scent in the Realms Bath & Body line is named for a different realm. For instance, the ripe apple scent is called Avalon, after the legendary island of apples from King Arthur. Or Hanalei, a delicate combination of pear and coconut, named after the magical bay on the north shore of Kauai.
Realms' shaving mug sets are gaining momentum. Kaye tested the recipe on her husband, who has both a heavy beard and sensitive skin. She adds bentonite clay to the shaving soap, which makes the razor glide. "Using this shaving soap, I have not nicked my Adam's Apple in years," says Kaye's husband, Kevin.
The men's shaving set comes with sandalwood scented soap, a wide cobalt blue ceramic mug and a true boar bristle brush. It's been so popular that Kaye decided to make a women's shaving set, which was just added to the line a couple months ago. The women's soap is a delicate sweet pea, the ceramic mug a dusty rose color and comes with the same great boar bristle brush as the men's set.
"I remember sitting on the bathroom counter, watching my Dad take a steaming hot brush and work it round and round into a big lather. It apparently made a lasting impression. Now, I keep a mug in the shower and shave my legs every day," says Kaye.
In addition to creating a new rich, winter scent, Kaye is busy putting together holiday gift baskets. In each are four products all in a favorite scent: large 8 oz. lotion, 8 oz. shower gel, travel size mini lotion and shea butter soap.
About Realms Bath & Body Line
Realms products made their debut at various crafts fairs and Saturday markets around Washington state. The line will be appearing at the Allied Arts Holiday Festival in Bellingham, WA for its 4th year in a row and is currently carried by The Scott Collection, a boutique in the quaint town of La Conner, WA.
Small retailers are encouraged to inquire. Wholesale prices are available. Please use the contact form at http://realmsbathandbody.com.