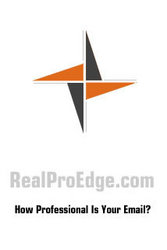 We want everyone to see the difference in web communication tools that we offer -- for free.
Salem, OR (PRWEB) March 18, 2008
RealProEdge.com is offering a Free Trial Email Account in conjunction with its professional, independent, all-in-one email and collaboration suite especially designed for real estate agents.
The product offers an alternative to free email software used by many real estate sales professionals which is inflexible and/or carries advertising, appearing unprofessional to the client.
"I cannot tell you how many times I have received an email from a Realtor and at the bottom of the email there is an advertisement for Hotmail, MSN, Yahoo, AOL or some other company because they are using a free email account," said Fred Wenger, President of RealProEdge.com. "It never hurts to take your real estate career to the next level professionally.
"We want everyone to see the difference in web communication tools that we offer -- for free."
The account signup process allows the user to select a desired email address (with multiple domain options); it is fully automated and requires no credit card information.
Other email accounts can be consolidated in a matter of minutes. The product carries no obligation, and if the user is unsatisfied at the end of six months, the account will close automatically.
RealProEdge.com's email and collaboration suite offers the following features:

Free for first six months
No setup fee
500 MB Email Account (IMAP, POP3, Webmail)
Send and receive large attachments (~50 MB)
Advanced SPAM filtering
Mobile interface
Calendar, Contacts, Tasks
Consolidate any other email account in one location
Multiple email aliases available (small additional cost)
Custom domains available (small additional cost)
Customer support is available during the trial period to assist with any questions.
For further information, visit RealProEdge.com.
# # #