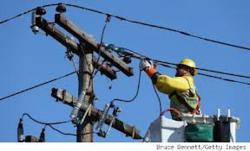 "Our clients can cut out the utility middle man and buy their power directly from the New England Power Grid. They can map out energy-buying strategies, sometimes utilizing power in Real-Time," says FEL founder Gus Fromuth.
Manchester, NH (PRWEB) December 06, 2012
Freedom Energy Logistics and Halifax American Energy Company recently announced that many of their clients paid $0 for electricity at the height of October's Hurricane Sandy.
The savings were procured by the companies' customers buying electricity on the Real-Time market between 11 p.m. and 7 a.m. October 29 and 30. However, because most consumers continue to receive their electricity through their utility's Standard Offer, few will see such positive effects from Hurricane Sandy on their electricity bills.
"The Real-Time Market allows electricity users to buy their power in the moment," explains Gus Fromuth, founder of energy management firms Freedom Energy Logistics (FEL) and Halifax American Energy Company (HAEC). "It's one of a retinue of tools available now that power markets have been deregulated.
"Our Direct to Grid customers at FEL are electricity self-suppliers. They have eliminated the utility middle man and buy their power directly from the New England Power Grid. They can map out energy-buying strategies, sometimes utilizing power in Real-Time," continues Fromuth.
"Real-Time prices tend to be lower and react immediately to weather events like heat waves and hurricanes, so clients need to be aware of what's coming up and be ready for fluctuations, sometimes great fluctuation," he explained.
"As we saw during Hurricane Sandy, the price even went to $0, but sometimes spikes go in the other direction, too." Fromuth says his companies help their customers assess their best option for power purchases at particular times.
Sometimes that will be buying electricity in Real-Time, and sometimes the best option will be purchasing on the more expensive but less volatile Day Ahead Market.
Scattered hours of free electricity are not unusual, but a run of such length as happened during the hurricane occurs only when demand on the power grid drops precipitously across the whole New England region.
Howard Plante, Vice President of Marketing at HAEC, notes that some large electricity users want to leverage the options available through deregulated energy markets but do not have the internal resources to consistently manage Direct to Grid accounts. HAEC, he says, offers near wholesale prices with Real-Time, Day Ahead and Indexed options. Many HAEC customers also saved thousands of dollars during Sandy when Real-Time prices dropped to $0.
Smart meters are bringing the power of the Real-Time market planning closer to residents and small business consumers, allowing them to decrease their consumption during periods of peak demand and to increase it when the network is less taxed. Smart meters offer the possibility of energy bill savings, as well as resource conservation, and large-scale adoption could curb the need for development of expensive new generators.
In 2011, FEL and HAEC's Real-Time customers saw a total of 47 hours of electricity billed at $0. Thus far, 37 such hours have been logged in 2012.
The Freedom Energy Logistics family of companies, designated a company in the "Top 10 to Watch" by Business NH Magazine, obtains power at the lowest possible price for New England consumers.
FEL Power (http://www.felpower.com) provides high-end energy management services in electricity and natural gas. Its unique Direct to Grid (or Self-Supply) model guides large-scale users into New England's wholesale electricity market, guaranteeing them access to electricity at the lowest available cost.
Halifax American Energy Company (http://www.haecpower.com) is a retail electric energy marketer which, in partnership with South Jersey Energy, specializes in transactions converting wholesale and bulk power products into shapes and durations suitable for industrial, commercial, institutional and governmental end users.
FEL's sister company, Resident Power (http://www.residentpower.com), is New Hampshire's first competitive electricity aggregator to focus exclusively on residences and small businesses.