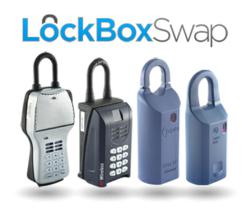 By providing Realtors a secure place where they can buy and sell used lock boxes, LockBoxSwap is the real estate industry's response to a rising demand for 're-commerce' services with eco-friendly business models
San Diego, CA (PRWEB) January 09, 2012
With unwanted and outdated electronics ending up in American landfills or being exported to developing countries, there has been an increase in start-up businesses attempting to tackle the growing problem of E-Waste. In November of 2011, San Diego-based LockBoxSwap joined the ranks of these companies addressing this growing global concern.
As the first e-commerce platform for Realtors to buy and sell used electronic lock boxes in a centralized secondary marketplace, LockBoxSwap offers a "green" solution for the re-use of Supra and SentriLock lockboxes that might otherwise end up being discarded or stripped down for electronic components.
"By providing Realtors a secure place where they can buy and sell used lock boxes, LockBoxSwap is the real estate industry's response to a rising demand for 're-commerce' services with eco-friendly business models," says Blake J. Nolan, Chief Technology and Operations Officer at LockBoxSwap. "At LockBoxSwap we encourage our Realtor customers to recycle and reuse their electronic lockboxes, and we guarantee that every lock box is packaged and shipped in recyclable, bio-degradable material."
Already well-received by Realtors nationwide, LockBoxSwap has earned some notoriety in the real estate industry as a convenient place where Realtors can quickly and easily buy a realtor lock box discounted at 30-50% less than retail pricing.
"With our 'Everyday Free UPS Shipping' policy and a guarantee that every lock box sold will be fully functional, we ultimately want every Realtor to view LockBoxSwap's commitment to reducing E-Waste as a cost-effective, environmentally friendly alternative to buying or selling their used lockboxes on the open market," says Nolan.
As part of LockBoxSwap's efforts to promote the recycling and re-use of Supra and SentriLock lockboxes, any Realtor who enters the code GREEN2012 will receive an additional 10% off any lockbox purchased through the month of January 2012.
For a "green" alternative to buying a new lockbox or attempting to sell a lockbox to a private third-party, check out LockBoxSwap and "Let's Get Swappin" Today!
With a guaranteed free-shipping policy and a Realtor-managed team who understands your business, LockBoxSwap aims to be the one-stop shop for all Realtors' Supra and SentriLock lockbox needs. No more hassle. No more haggling. No more leaving your office. Just a guaranteed electronic lockbox delivered straight to your door. — "Lock Up Your Listing For Less with LockBoxSwap"
To lock up your listing for less, go to http://www.LockBoxSwap.com. For bulk transactions (20+ lockboxes), call Beau Katz, National Sales Manager, at (888) 835-2540.
###