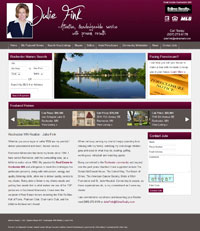 Even if a resident has already been served with a Summons and Complaint for foreclosure, it is still not too late to prevent it.
Rochester, MN (PRWEB) January 16, 2012
Julie Fink, a leading Realtor in Rochester MN, is pleased to announce that she is helping people throughout the Rochester area avoid foreclosure by assisting them in the "short sale" process, bringing her expertise and her passion for real estate to bear on a problem that can be difficult for homeowners to face alone.
According to Julie, "Even if a resident has already been served with a Summons and Complaint for foreclosure, it is still not too late to prevent it." She understands that most people are unfamiliar with the foreclosure process and that it can be confusing and intimidating for homeowners, but Julie has more than 10 years of experience with the foreclosure and short sale process. That experience makes all the difference. Julie knows homeowners' rights and options, and she understands the effective methods that her clients can use to stop a foreclosure from proceeding. Her experience allows her to advise and guide her clients through all stages of the process in a way that keeps a difficult experience as stress-free as possible.
Julie sees a short sale as preferable to foreclosure in many situations. "Many times, a short sale is a better option than foreclosure," she said, "because it allows homeowners to repair their credit more quickly."
Real estate in Rochester MN has not been immune from the problems that have affected real estate throughout the United States, but Julie sees reason for optimism in the local market. New construction is on the rise, and the Mayo Clinic, the world-renowned medical institution that is a keystone of the city's economy, has scheduled a number of new construction projects. Those changes mean that new jobs will be available and that new residents will be looking for homes for sale in Rochester MN.
Julie has taken note of another trend that has positive implications for local real estate, the increased number of baby-boomers seeking to downsize. As a result, she has seen a marked increase in demand for villa-style living throughout the area. She has been actively helping baby-boomers find the right new homes, and she has been just as active on the other side of the ledger, finding the buyers that make a move like this possible.
Julie has called Rochester home since 1994 and has been a full-time Realtor since 1998. Her energy, expertise and client-centered approach have earned her many honors, including the Elite Re/Max Hall of Fame, Platinum Club, Chairman's Club, and the Lifetime Achievement Award. Julie is also one of the top real estate agents at Edina Realty and received the Master's Circle Award in 2011. She complements her many professional accomplishments with a long-standing commitment to the Rochester community and beyond, a commitment that includes support for the Ronald McDonald House, United Way, March of Dimes, American Cancer Society, Make a Wish Foundation and St. Jude Hospital.
Although Julie is an expert in the foreclosure and short sale process, she has much more to offer. She is a full-service Realtor with a commitment to her clients that is second to none. Among the valuable services she provides are access to MLS listings, experience in pricing and selling homes, experience in evaluating new homes in light of her buyers' specific needs, staging homes for sale, knowledgeable help with real estate paperwork, exceptional negotiating skills and, in each and every case, a truly personalized analysis of each individual's real estate situation.
###