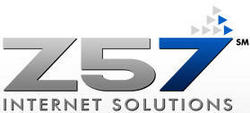 Z57 websites are designed specifically to attract prospects, provide them with substantial information and put them in direct touch with the real estate professional
San Diego, CA (PRWEB) May 12, 2009
Z57, Inc., a leading provider of real estate online marketing, announced Q1-09 client acquisition is up 125% over Q1-08. This 3-digit percentage increase is proof positive that Z57's real estate clients recognize the need for an experienced, one-stop source for their Web marketing. For over 10 years Z57 has provided REALTORS® nationwide with top-performing, professionally branded websites. In addition Z57 stands behind their AE Premiere website with a guarantee of 60 unique visitors within the first two calendar months or the site is free. It's no wonder visitor traffic to Z57 client websites was up 38% for the first quarter 09 as compared to the same time period 08.
With over 80% of buyers searching online for their first or next home, the days when the only Internet presence a real estate professional needed was a simple web page are long gone. In today's market every dollar an agent allocates to marketing has to count. The choice of a full service online marketing company takes on a whole new level of importance. Z57 attributes their 125% increase in client acquisition to providing clients with more than a website. Agents are set up with an individualized Web marketing system combined with personal guidance from an experienced account manager.
Z57 feature-rich websites focus on a client's return on investment (ROI), through "Five Keys to Success:"
1. Design - With hundreds of designs to choose from, agents set themselves apart from the competition with incorporation of their personal branding images.
2. Content - Content is king. A Z57 website includes key features such as, an animated photo slide show, listings, instant home comparables, community and school reports, Yahoo! Mapping, open house scheduler, printable flyers and more.
3. Capture - Through Z57's multiple lead capture areas on an agent's site, visitors turn into identifiable leads. With a visitor's contact information, a conversation can now begin.
4. Conversion - Z57 websites make it easy for agents to turn a lead into a warm relationship. With SMS text messages, drip email campaigns and more, prospects turn into buyers.
5. Traffic - Z57 capitalizes on site optimization, listing syndication, as well as other SEO tactics to drive qualified free and paid traffic to clients' websites. Z57's 38% increase in visitors to their clients' websites supports this benefit.
"Z57 websites are designed specifically to attract prospects, provide them with substantial information and put them in direct touch with the real estate professional," states Z57 CEO Steve Weber. "Our increase in client acquisition and traffic to our client sites, spotlights our Z57 team of dedicated online marketing professionals. We understand a broker or agent has to spend time doing what they do best--selling homes. Our job is to make sure their online marketing is working 24-7-365 for their ongoing success."
For more information http://www.Z57.com
About Z57, Inc.:
San Diego-based Z57, Inc. is a personal Web marketing company for real estate professionals. Founded in 1998, the company specializes in feature-rich designed websites, with content, lead capture/conversion and buyer/seller traffic generation through effective online marketing plans, listing syndication, Search Engine Optimization, drip e-mail marketing and a highly trained customer service team. Recognized as an Inc. 5000 company and San Diego's No. 1 Web Development and Design Company, Z57 provides thousands of clients nationwide with proven real estate solutions matched with personal service. For more information call (800) 899-8148.
###