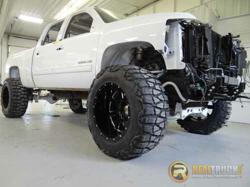 Everything we do as a company is done in the spirit of always striving to do more than what's expected, and the Storm Truck Project is no exception.
Jamestown, N.D. (PRWEB) August 17, 2012
RealTruck.com, an online truck accessory retailer based out of Jamestown, N.D., has recently launched the Storm Truck Project, an initiative to customize a 2012 Chevy Silverado 2500 using high-end accessories and electronics. The vehicle will be shown at this year's 2012 SEMA Show in Las Vegas on Oct. 30 through Nov. 2.
The project is a labor of love for RealTruck CEO Scott Bintz, who envisioned the concept of putting everything his company could into one vehicle to show what's possible with truck customization. Bintz founded the company in 1998 and it has since experienced tremendous growth, reaching a record $13 million in sales in 2011.
"Everything we do as a company is done in the spirit of always striving to do more than what's expected, and the Storm Truck Project is no exception," said Bintz. "We want to create something special we can take to this year's SEMA show and be proud of."
The Storm Truck is being built with the help of The Foss Shop, a family-operated auto body shop in the small town of Casselton, N.D. The project is challenging the team to do innovative customization work that they have never done before, including building a barn door-style tailgate. Other upgrades to the exterior of the truck include massive wheels, mud grappler tires, a six-inch lift kit, power running boards, heavy-duty bumpers, and LED lights.
Fargo, N.D. audio/visual retailer Site On Sound will be working on the Storm Truck's interior and electronics. The upgrades will include a television with gaming console that rises out of the truck bed, television screens in the rear-hinged back doors and the tailgate doors, and an iPad that controls the doors and electronics in the truck.
The truck is steadily earning national attention and gaining fans through social media. The company is documenting every step of the project and updating fans through its website and Storm Truck Project Facebook page, which is frequently updated with videos and photos. The completed project will be on display in the Light Truck Accessory Alliance (LTAA) section of the show floor at the 2012 SEMA Show. RealTruck.com will also be using the creation of the Storm Truck to show its customers how to install various accessories.
About RealTruck.com
Scott Bintz started RealTruck.com in 1998 in Spokane, Wash. and moved the company to Jamestown, N.D. in 2000. Since then, the company has grown to employ more than 30 people and posted a record $13 million in sales revenue nationwide in 2011. RealTruck.com offers more than 500,000 truck accessories for all of the top pickup truck and sports utility vehicle makes and models on the market today. Driven by a unique set of Guiding Principles that encourage employees to Include Fun, Take Risks, Deliver More, Improve, Be Humble and know that Transparency Rocks, the company's free spirited corporate culture is heavily influenced by Zappos.com founder Tony Hsieh.