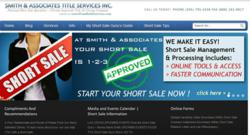 "1-2-3 Approved" provides a complete set of short sale tools and services for a real estate professional and a peace of mind for distressed homeowners.
Aventura, Florida (PRWEB) September 05, 2012
Smith & Associates, a Florida statewide title company with on staff legal professionals, is pleased to announce a launch of its National Short Sale Processing and Negotiations Portal "1-2-3 Approved."
The portal is a result of a partnership between Smith & Associates, RealtyProx®, and National Closing Center. It will enable Smith & Associates to process, negotiate and close short sales anywhere in the United States at no cost* to real estate agents or sellers.
"I'm excited to be able to offer the same short sale processing and negotiation services known in Florida for our results and professionalism to the Realtors in the rest of the country," says attorney Renee Marie Smith, Esq., President and Senior Real Estate Attorney.
"1-2-3 Approved" provides a complete set of short sale tools and services for a real estate professional and a peace of mind for distressed homeowners.
Step One: Smith & Associates will assist with real estate agents' or their clients' (homeowner's) questions on short sales, provide the lender forms, explain if needed, how to complete the short sale forms or what documents need to be submitted for lender review.
Step Two: After registering through our portal, real estate agents will be able to upload their homeowner's documents using RealtyProx® technology. Electronic transmission makes document submission quick and easy as you simply upload your document without fax or email.
No worries about customer private information, clearer transmission to lenders and expedited processing.
Step Three: National Closing Center (NCC) handles all of the document submissions to lenders, processes the negotiation of files and performs a variety of data entry/technology related tasks. Many times there are issues that require special attention that Renee Marie Smith, an experienced negotiator and her Smith & Associates team can resolve to insure your file closes.
While National Closing Center, in conjunction with Smith & Associates, processes and negotiates a short sale file, the RealtyProx® system will keep everyone updated. Listing Agents have an option to connect other parties involved in the process to each of their files.
All connected parties, depending on their permission level, receive periodic short sale updates via email; plus they can log in for private messages, manage tasks, coordinate showings/offer submission, and more throughout the process.
No more wondering where the short sale stands, with a log in ability at your fingertips! We will ensure a successful process and approval; our national title and closing company partner will handle the closing preparation and title work with convenient remote closers to travel to you and your clients to complete the transaction.
Feel confident that your short sale file is in good hands from the start until the close.
*Technology fee applies
Smith & Associates
Smith & Associates Title Services is a full service title company with on staff legal professionals to handle all your real estate needs. With decades of combined experience in the real estate market even complicated issues can be solved quickly and easily to insure your deal closes. The company is known for its short sales expertise. Their staff members have been negotiating short sale approvals since 2007.
You can email your questions to info(at)smithtitleservices(dot)com or call USA 1-305-705-3428 to schedule a conference.
Renee Marie Smith, Esq.
Attorney Renee Marie Smith is a 15 year Real Estate industry expert; author of "My Short Sale Guru's Guide" listed on Amazon.com, and Host of Fox29 TV's 2012 Short Sale Guru Show. In 2007, Renee opened her own real estate practice and in 2009, she founded the statewide title company, Smith & Associates, to be an advocate for discouraged homeowners. She has counseled thousands of short sale participants and her firm has handled hundreds of short sales expanding throughout the U.S. She was a guest speaker on KLAV 1230am radio's 4 part short sale seminar in Las Vegas, trainer for NAWRB's National Call4All Short Sale Summer School and nationally published in numerous magazines & blogs including NAWRB's "N", Palm Beach Woman, and Women's Council of Realtors PB quarterly.
RealtyProx
RealtyProx Corp. is a software development company specializing in real estate transaction automation and management. The company caters to a variety of clients, ranging from real estate brokerages and individual agents, loss mitigation companies, law offices, HUD counseling agencies, escrow/title companies, to investors and banks. RealtyProx® provides sophisticated yet exceptionally user-friendly tools for real estate agents specializing in short sale transactions. The platform assists real estate professionals with marketing, automated showings/offer submission and short sale processing.
National Closing Center
National Closing Center Corp. (NCC) is a short sale processing/data entry company. The company employs highly skilled processors trained to understand laws and regulations of each state and strictly adhere to each lender's/servicer's guidelines. NCC provides easy and free access to skilled short sale processors and attorneys and helps facilitate closings in both judicial and non-judicial states.
Meet RealtyProx and Renee Marie Smith at the Five Star Conference
RealtyProx is hosting an Open House during the Five Star Conference in Dallas on September 6th an 7th, 2012 at the Grand B, Hilton Anatole. Both events will feature Attorney Renee Marie Smith. Click here to register! One lucky attendee is going to win a lunch with Don Maxwell, VP of 24 Asset Management and board member of RealtyProx!