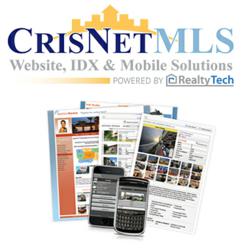 It's no longer an option to be online; it's a necessity!
Westlake Village, CA (PRWEB) June 09, 2011
RealtyTech, Inc. has built high quality products for real estate agents and offices since 2002. RealtyTech Inc. is well known for its products such as Agent123 Websites, IDX123 Home Search, and iGoIDX Mobile IDX home search. RealtyTech specializes in generating more website traffic to the Agent's websites using Internet Marketing programs called "Success Marketing Packages" as a powerful additional service. These programs are designed to effectively turn visitors into leads for the agents.
"We have been working with RealtyTech Inc. since the beginning of their company as an affiliate with Southland Regional Association of REALTORS® and they have been one of our most respected," said Mary Lou Williams, Southland Regional Association of REALTORS® Assistant Executive Vice President. "Now that RealtyTech is officially partnering with CRISNet MLS, we are excited to be offering a version of their quality products to give our members a fighting chance in this ever-changing technological real estate world."
As part of the agreement, CRISNet MLS members will be able to sign up for a FREE Basic Website, Basic IDX, and Basic Mobile IDX (for Smartphone viewing) from RealtyTech. RealtyTech Inc. will also be offering its entire line of Premium Products and Services for the members to grow into and take their businesses to the next level online!
"I can't tell you how much we have enjoyed our relationship with the great people at Southland Regional Association of REALTORS® and CRISNet MLS members over the years," said Rob Baumgardner, RealtyTech Inc. President. "With this new partnership we have a unique opportunity with CRISNet MLS, an already strong entity in the San Fernando and Santa Clarita Valleys, to make them even stronger; especially with the tool set that they could offer to their membership. Now members can get started online with a basic tool set for no fee, then RealtyTech Inc. can help them to grow in whichever direction they need to build their businesses. This relationship is truly a win-win for all."
CRISNet is the multiple listing service provided by Southland Regional Association of REALTORS®. The Southland Regional Association of REALTORS® is one of the largest local trade associations in the nation with more than 10,000 members serving the San Fernando and Santa Clarita Valleys.
RealtyTech Inc. offers powerful real estate websites, IDX solutions, and advanced Internet marketing (SEO) packages specifically designed to meet the needs of the real estate professional and their customers.
If you're an MLS interested in partnerships and opportunities with RealtyTech, Inc., contact Rob Baumgardner at 877.832.4428 for more information.
###