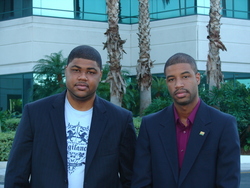 Our relationship with T.O.K. goes back a number of years and this new partnership only serves to strengthen the relationship
Pembroke Pines, FL and Kingston, Jamaica (PRWEB) October 5, 2007
Realvibez.com, a leading online provider of media for consumers of Caribbean music culture, has announced a merchandise deal with leading Reggae Dancehall group T.O.K., one of the top Reggae acts in the World.

This partnership will leverage the popularity of T.O.K. in markets such as North America, the UK, Europe and Japan by providing a wide range of merchandise for fans of the group for the first time. The majority of Reggae acts do not have merchandise deals and this marks a milestone for the Jamaican music industry.
"We are excited to take advantage of opportunities that allow us to capitalize on our strong fan-base around the World. Reggae merchandise has usually been limited to Bob Marley and we look forward to being among the few modern Reggae acts to connect with our fans in this way," said Craigy T, one of the four members of the group. "We're really looking forward to working closely with Realvibez in the creation and distribution of merchandise."
The first set of merchandise will be a series of posters and will go on sale later this year at Realvibez.com and select stores. Other merchandise will launch in early 2008. The promotion is also intended to create anticipation for the upcoming album from the group.
"Our relationship with T.O.K. goes back a number of years and this new partnership only serves to strengthen the relationship," said David Mullings, CEO of Random Media LLC, the parent company of Realvibez.com. "Our goal has always been to expose Caribbean entertainment culture to the World and generate more revenue for the local music industry. T.O.K. is extremely popular worldwide and was a natural choice to launch our merchandise efforts."
Realvibez is dedicated to expanding its digital presence in order to deliver content to consumers of Caribbean music culture around the world. Recent partnerships include a channel in a new P2P software by a Silicon Valley-based start-up and the first Caribbean music culture online show for a major social networking website that cannot be named as yet.
About T.O.K.

T.O.K. is one of the most popular Reggae Dancehall acts in the World, having released multiple albums on VP Records. Its members are Alex, Flexx, Bay-C and and Craigy T. After building a fan-base in Jamaica, the group broke into the U.S. market with the 2001 debut album, My Crew, My Dawgs, which made waves on Billboard's Top Reggae Albums Chart and other Reggae charts worldwide. Recent Hits include "Gal You A Lead" and "Footprints", both singles making it into the Billboard Top 40 R&B Singles chart and the US Hot 100 chart. Videos for both also made the 106th and Park countdown on BET. The group's international touring schedule has earned them a devoted fan base. Their most recent release, Unknown Language, sold over 100,000 copies in Japan within two (2) weeks of release, achieving Gold certification in that market, faster than My Crew, My Dawgs, which also went Gold. They are now putting the final touches on their next album.
About Realvibez.com

Realvibez.com is a leading online provider of media for consumers of Caribbean music culture and is owned and operated by Random Media LLC, a Florida-based company. Founded in 2002 by two brothers, David and Robert Mullings during their MBA program at the University of Miami, Realvibez.com has one of the largest collections of Caribbean videos on the web, including interviews with artists such as Sean Paul, Shaggy, Wayne Wonder, T.O.K. and more. David and Robert are among the youngest people to ever graduate from the MBA program at the University of Miami, completing their degrees at the ages of 22 and 21 respectively. Realvibez.com also works with artists such as Wayne Wonder, Ky-mani Marley and up-and-coming acts such as Cezar and To-Isis. The website has one of the largest collections of Caribbean music-related videos on the web.
Press Contacts:
David Mullings (Realvibez.com)
tel: 954 683 8326
e: dmullings(at)realvibez.com
###