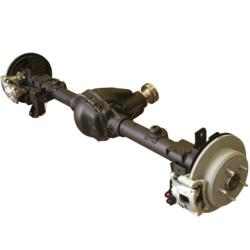 These discounts are now helping the company inventory for sale to remain lower than MSRP pricing.
Charlotte, NC (PRWEB) May 14, 2013
The 4x4 automotive industry has helped introduce technologies used to provide smoother and easier rides for drivers who own capable vehicles. The AutoProsUSA.com company has earned its reputation for selling discount auto parts to buyers across the nation. This company is now providing rear differential discounts for its complete rear and front differential inventory for import and domestic vehicles. These discounts are now helping the company inventory for sale to remain lower than MSRP pricing. The current discounts can be viewed online at http://autoprosusa.com/used-limited-slip-rear-differentials-for-sale.
The types of differentials made by automakers help to engage the gearing used for front and rear-wheel drive vehicles. The technologies used by import and domestic automakers to precision engineer these parts can differ. Locating replacement parts for any drive train system can prove difficult for buyers with no resources outside of a dealership.
The discounts now added to the differential inventory online are able to provide a better source for purchase for buyers unable to find discounted pricing for used, OEM or performance editions of auto parts for sale. These discounts are expected to stay in effect during the course of this year.
The AutoProsUSA.com company has now developed one of the easiest to use search systems to locate in stock parts as well as immediate pricing without requiring assistance. This one click search and price system is now used by the majority of customers using this company as an auto parts resource. Current pricing offered for each part online or through third parties is immediately displayed to allow faster comparisons with other companies. The use of this search tool is now helping parts to be ordered faster and shipped the same day due to the expedited processing offered by this company.
This company added Toyota OEM parts earlier this year to help boost the import inventory for vehicle owners and parts buyers. A new video series has now been created to help introduce the types of parts available. This video can be viewed at http://www.youtube.com/watch?v=kvPM-im2AwU online. This video channel is expected to remain updated as new parts additions are made and other information has been created and supplied to the buying public.
Buyers or trade industry companies interested in contacting this company can use the following information:
Auto Pros USA
1270 Crabb River Rd.
‪Richmond, TX 77469
About AutoProsUSA.com
The AutoProsUSA.com company has built one of the largest databases currently searchable on the Internet for auto parts from domestic and import automakers. This company has reached deals with salvage yards, junkyards and other third party suppliers to provide parts and accessories through the company network of buyers. Elements like warranty protection are included with each parts sale to give buyers additional assurance. The AutoProsUSA.com company website is updated daily with new information and pages for each part currently carried in stock. The company website now serves as one of the main information resources customers use before placing parts orders.