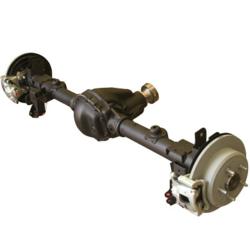 This dual method of price delivery is helping to generate a better way to receive pricing for buyers online.
Indianapolis, IN (PRWEB) April 24, 2013
The creation of the four-wheel drive vehicle system has helped expand the technologies used by automakers in the 21st century. The drive train units that are inserted into 4x4 vehicles are precision-engineered and locating replacement parts could prove to be challenging for some buyers. The http://axlesanddifferentials.com company has now discounted all online sales of its rear differentials. These useful parts are now discounted lower than traditional dealerships and available online.
Ford, Chevrolet and Dodge represent the largest 4x4 manufacturers in the United States. These automakers are able to provide consistent quality in engineering and fuel economy that many drivers expect. Foreign automakers now producing four-wheel drive vehicles includes Hyundai, Toyota and Honda.
Both the front and real differential units that are now stocked online are eligible for the new discounts. This change to the pricing policy is helping more buyers who purchase the complete differential set for replacement in 4x4 vehicles.
The AxlesandDifferentials.com company has made several inventory increases this year to help expand the amount of parts customers have available. These changes have been met with a new search system installed on the company website. Instead of a simple directory listing of parts, parts can now be searched by make and year of creation.
This new parts search system is able to generate company pricing as well as national retailer pricing for similar parts. This dual method of price delivery is helping to generate a better way to receive pricing for buyers online.
About AxlesandDifferentials.com
The AxlesandDifferentials.com company has lowered its online pricing this year to create a competitive resource online. This company currently stocks parts from hundreds of manufacturers and makes it easier for buyers to search local and national pricing online. The warranty terms that are attached with each sale from the company website are one effort to extend the longevity of used parts. The AxlesandDifferentials.com company is staffed by experts in the auto industry who share the common goal of providing better opportunity for buyers to save money purchasing replacement parts.