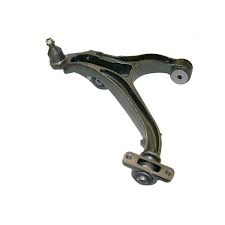 The rear control arms inventory now established for imported and American made vehicles online is in addition to the front arms included this year.
Louisville, Kentucky (PRWEB) June 24, 2013
Modern vehicle systems are now fitted with intelligent steering and axle combinations for better control during vehicle operation. These units can be expensive to replace if the retail price is not discounted by sellers. The AutoProsUSA.com company is now helping its customers to benefit from a recent addition online. This company has added rear upper control arms for sale at a marked down price at http://autoprosusa.com/rear-upper-control-arms.
This inventory is provided through relationships with preowned parts suppliers in the USA. The retail price suggested by manufacturers is now discounted to benefit customers.
The steering and axle design by import and American automakers has changed in the past two decades. More reinforcement has been added to make cars safer and more comfortable to drive. Reliable steering systems are controlled by steering columns, axles and control arms that work in combination to provide uninterrupted performance.
The Auto Pros integration of various types of control arms and related inventory is helping to takeaway the gaps in supply for these parts in some parts of the country. Parts are now included daily and inventory is updated numerous times to ensure that all stock status notifications are correct when buyers research or purchase parts.
"The secondary parts industry has developed into a low cost source to find quality parts," a source from the Auto Pros company said. The reputation of the industry as a whole has been improved through better acquisition efforts by companies in large and small cities.
Parts that are salvaged through insurance company write-offs or from auctions could have low mileage compared with preowned parts secured in previous years. "Our supply network continues to expand as new partners expand the for sale options to consumers," the source included.
The rear control arms inventory now established for imported and American made vehicles online is in addition to the front arms included this year. A news announcement was made to mark the introduction of the front control arms online. Both upper and lower editions can now be found for sale through the database of available parts at http://autoprosusa.com/front-upper-control-arms.
The partner supply companies now helping to fulfill and distribute all orders that are sourced from the Auto Pros website have made the recent inclusions possible for consumers. Consumers now pick the supplier most appropriate in price and parts quality when making a purchase.
About AutoProsUSA.com
The AutoProsUSA.com company built its website to serve the lowest pricing possible to consumers hoping to find replacement parts online. This company has combined its strengths and marketing in the automotive industry to build a growing resource for buyers of parts. The company connections made this year have resulted in thousands of available parts now accessible on the consumer level at the AutoProsUSA.com website. The consistent price markdowns and build up of preowned inventory are two examples of recent changes enacted this year for consumers to benefit. Auto parts warranty policies and faster methods of shipment are supplied through partner network providers.