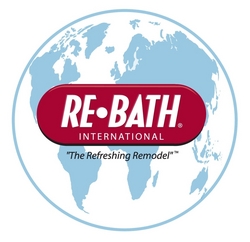 When he told us that Re-Bath could install new bathrooms literally overnight, and that it guaranteed them, we thought it was too good to be true
Tempe, AZ (Vocus) July 30, 2009
Re-Bath, a bathroom remodeler with 30 years of experience nationally, is taking its expertise to Europe, bringing new styles to the Old World.
Based in Tempe, Arizona, Re-Bath LLC has selected a Belgian couple as the company's first Master Franchisers, who will not only install the company's innovative bath, shower and tub fixtures, but also will establish Re-Bath franchises across Europe, bringing bathrooms that combine affordable beauty with the convenience of fast installations to the continent.
It also is the culmination of a dream for Christian Lemable and Seka Dobric, who have a combined 16 years in the home renovation business. Having already established a successful company specializing in insulation, ventilation and finishing, Christian and Seka were intrigued several months ago when they first heard of Re-Bath. They had never heard of a company that promised to install new tubs and showers overnight, particularly when it came with a lifetime guarantee.
There also was a measure of disbelief as Christian and Seka listened to the son of a client who learned of Re-Bath while living in Atlanta.
"When he told us that Re-Bath could install new bathrooms literally overnight, and that it guaranteed them, we thought it was too good to be true," Christian said. "But we also saw the potential there, and decided it was worth investigating."
Christian and Seka became more impressed as they pored over Re-Bath's web site (Rebath.com), and called the company's headquarters to see if they might be interested in jumping across the pond.
Re-Bath certainly was. Two years ago, Dave Sanders, Re-Bath's president, knew it was time to expand internationally. It was his intent to implement the concept of a Master Franchise in Europe, allowing its owner to oversee expansion in a given area.
"We were very excited to find Christian and Seka, owners of their own renovation business. We are going to put forth a lot of effort to help our Master Franchisee become successful," Sanders said.
Christian and Seka expect to make a big splash in Europe. Initially they will oversee Re-Bath in Belgium, Luxembourg and the Netherlands, though demand may well dictate further expansion.
"There really is nothing like Re-Bath here at all," Seka said. "Once people see the high quality of materials, and how professionally it is installed, we believe they will be as excited as we are."
Re-Bath is well-suited to small European bathrooms, where remodels often take several days, if not a week or more. With Re-Bath's patented process using DuraBath® SSP bathtub liners, shower base liners, and wall surrounds, work can be completed in a day or less and typically does not disturb flooring, plumbing or walls.
Christian said his soon-to-be Re-Bath clients will be amazed at the results.
"If we did not believe in this product, we would not risk the professional reputation we've built over the years," Christian said. "As soon as people know what Re-Bath is all about - coming to our showroom (in Antwerp) to see, feel and experience what their bathroom could be - we won't have to do much convincing. We just have to get the word out."
Contact:
Mary Beth Mayer
480-844-1575, Ext. 153
http://www.rebath.com
###