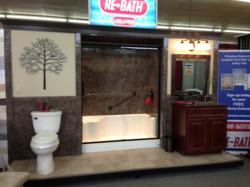 Allentown, PA (PRWEB) April 04, 2013
ReBath Northeast's spring home show season will be coming to a close in the next few weeks. ReBath Northeast will have booths at only two more home shows until the fall season begins.
Homeowners in the Lehigh Valley and Allentown area can visit ReBath Northeast at the Lehigh Valley Builders Association Home Show this weekend.
At their booth, ReBath Northeast will have several displays showing all of their bathroom remodeling options. They will show an example of a bathtub replacement, a tub to shower conversion, a bathtub liner and a walk-in tub.
Attendees at both home shows will be able to see the array of colors and styles that ReBath offers, as well as receive a coupon for $450 off any complete ReBath system. This coupon is only given out at home shows. A ReBath Northeast associate will be on hand to answer questions and collect information from interested homeowners so that they can schedule their free in-home estimate.
The Lehigh Valley Builders Association Home Show will be held at the Stabler Arena at Lehigh University, in Bethlehem. Show hours are: Friday, April 5: 6 p.m. to 10 p.m., Saturday, April 6: 10 a.m. to 9 p.m. and Sunday, April 7: 11 a.m. to 5 p.m.
Admission is $6 per person and children under 12 are free. There is no charge for parking. Over 100 vendors will take part in the home show.
ReBath Northeast's last home show for the spring season is the Greater Philadelphia Spring Home & Hot Tub Show in King of Prussia at the Valley Forge Casino Resort.
Hours for this home show are Friday, April 19: 11 a.m. to 9 p.m., Saturday, April 20: 10 a.m. to 9 p.m. and Sunday, April 21: 10 a.m. to 6 p.m. Admission for this home show is free.
ReBath Northeast associates remind everyone that these are the last two home shows for the spring season. Anyone who would like to see the ReBath Northeast displays in person should plan to attend one of these events or plan a trip to one of ReBath Northeast's three showrooms.
About ReBath Northeast
ReBath Northeast is a franchise of ReBath LLC, which sells patented DuraBath SSP™ acrylic products. ReBath Northeast is a bathroom remodeling company that specializes in the tub and shower area, installing tub and shower replacements, bathtub liners, tub to shower conversions, barrier-free showers and walk-in tubs in as little as one day. ReBath Northeast can also remodel the rest of the bathroom in as little as two days. The service areas are located throughout Eastern Pennsylvania including the towns of Hamburg, Burlington, Perkaise, Trucksville, Montgomery, Dingmans Ferry, Laporte, Honesdale, Chester, Dunmore, Allentown, Danville, Middletown Township, Scranton, Salem, New Berlin, Weatherly, Bloomsburg, Avondale, Ashland, Stroudsburg, King of Prussia, Shenandoah, Great Bend, Oaks and Beaumont. For more information about the services ReBath Northeast offers, visit http://www.rebathnortheast.com.
Aimee Fritzges
ReBath Northeast
934 Wyoming Ave.
Forty Fort, PA 18704
1-800-BATHTUB
(570) 283-3005
http://www.rebathnortheast.com
afritzges(at)rebathnortheast(dot)com