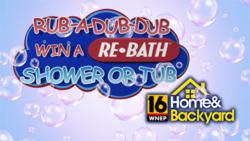 The ReBath Northeast 'Rub a Dub Dub, Win a ReBath Shower or Tub' runs from June 29 through July 27.
Forty Fort, PA (PRWEB) June 28, 2013
ReBath Northeast, in partnership with WNEP's Home and Backyard is excited to announce the "Rub a Dub Dub, Win a ReBath Shower or Tub" giveaway. The winner of the contest will receive a fully installed ReBath tub or shower system.
The contest begins tomorrow, June 29 and will run through the end of July.
Anyone interested in entering the contest should:
1. Watch Home and Backyard each Saturday, beginning June 29th.
2. Collect the special code word of the day, which will be revealed within the Home & Backyard episode.
3. Visit the WNEP contest page for the link to the contest entry page and submit your code word.
4. You only need one code word to enter, but you do receive bonus entries for entering a different code word from each week.
The contest is only open to residents in the following counties: Bradford, Carbon, Columbia, Lackawanna, Luzerne, Lycoming, Monroe, Montour, Northumberland, Pike, Schuylkill, Snyder, Sullivan, Susquehanna, Union, Wayne and Wyoming.
The winner will be announced July 27 on WNEP's Home and Backyard at 9 a.m.
ReBath Northeast offers a variety of bathroom remodeling options. Their professional installers can install bathtub liners, replacement tubs, shower replacements, tub to shower conversions, wall surrounds and walk-in tubs in one day. They also remodel full bathrooms in as little as three days.
One of the many things that sets ReBath Northeast apart from its competitors is its large color selection. With 10 colors and so many patterns to choose from, it's easy to find something that matches any style.
For more information about ReBath Northeast, visit ReBathNortheast.com and watch their process video or take a look at some of their before and after photos, from recent bathroom remodels.
Don't forget, the "Rub a Dub Dub, Win a ReBath Shower or Tub" giveaway starts June 29 so make sure to watch WNEP's Home and Backyard at 9 a.m. for the special code word. Participants need to logon to WNEP's contest page and enter at least one code to participate in the contest.
About ReBath Northeast
ReBath Northeast is a franchise of ReBath LLC, which sells patented DuraBath SSP™ acrylic products. ReBath Northeast is a bathroom remodeling company that specializes in the tub and shower area, installing tub and shower replacements, bathtub liners, tub to shower conversions, barrier-free showers and walk-in tubs in as little as one day. ReBath Northeast can also remodel the rest of the bathroom in as little as two days. The service areas are located throughout Eastern Pennsylvania including the towns of Sayre, Lehighton, Bloomsburg, Clarks Summit, Dallas, Williamsport, Mount Pocono, Danville, Sunbury, Greentown, Shenandoah, Middleburg, Laporte, New Milford, Pleasant Grove, Hawley and Tunkhannock. For more information about the services ReBath Northeast offers, visit http://www.rebathnortheast.com.
Aimee Fritzges
ReBath Northeast
934 Wyoming Ave.
Forty Fort, PA 18704
1-800-BATHTUB
(570) 283-3005
http://www.rebathnortheast.com
afritzges(at)rebathnortheast(dot)com