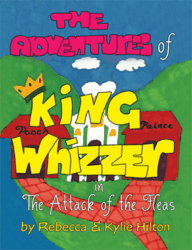 East Yorkshire, U.K. (PRWEB) June 28, 2013
Rebecca and Kylie Hilton offer an entertaining, insight-filled book for the young. Titled The Adventures of King Whizzer, kids will have no trouble understanding and appreciating this altogether amusing and lighthearted story. Easy-to-follow, succinct lines on top of vivid and whimsical pages make for a productive reading experience for children.
A long time ago, before human beings populated the world, the planet was under the rule of kingdoms aplenty. Among the empires that stood out were that of canines, felines and wingless insects known as fleas. In the great castle of King Whizzer, the noblest dog, lived his beautiful wife, Queen Ladie, and their children, Princess Millie, Leo the Duke of Naughtiness, Bella the Duchess of Anger, and, last but no means least, Charlie the Lady of Little.
For a considerable period of time, the citizenry of Pooch Palace lived in tranquility, despite the King's long dispute with Thomas and the kingdom of cats. But when Phillipe the Prince of Fleas solicits assistance from King Whizzer to help defend his people from the threat of cats to drive them away from their village, which the virtuous King grants wholeheartedly to him and his constituents, a catastrophe is set off by Leo the Duke of Naughtiness. What did the Duke do this time that enraged the flea community, now organizing an attack to their palace?
Follow the Royal Family of Pooch Palace as they deal with an impending threat from an ally-turned-foe. The Adventures of King Whizzer is a purposeful pastime that engages kids' imaginations to higher limits on the road to creativity and ingenuity.
This book will be featured at the 2013 American Library Association Annual Book Exhibit in Chicago, Illinois on June 29-July 1, 2013.
About the Author
Rebecca Hilton lives in Hull, East Yorkshire, England, with her pooches. She is an English University Student, and hopes to teach one day. Growing up as the eldest daughter of six made her life adventurous and purposeful. But the completion of her life was when she first met King Whizzer and Queen Ladie. She has always had a passion for creative writing and would often make up stories of their adventures together. Now that she is a grown up, she appreciates the little things in life, such as the love of family, the memories of unforgettable pets and friends that have cherished her for as long as she have cherished them. But through the adventures of King Whizzer her youth and adventures can live on for an eternity!
Kylie Hilton was brought up in Hull by two loving parents and lots of siblings. Having owned many pets while growing up, including nine dogs, three rabbits, a hamster, a budgie, and a pigeon—excluding the frogs and the hundreds of creepy crawlies she kept in unusual places—the author is a certified animal lover. Her interest in animals has taught her the lessons of responsibility, love, compassion and loyalty.
The Adventures of King Whizzer * by Rebecca & Kylie Hilton
in The Attack of the Fleas
Publication Date: March 13, 2013
Picture Book; £12.99; 24 pages; 978-1-4797-9431-7
Ebook; £3.99; 978-1-4797-9432-4
To request a complimentary paperback review copy, contact the publisher at +0800-644-6988. To purchase copies of the book for resale, please fax Xlibris at 44-203-006-8880 or call +0800-644-6988.
Xlibris books can be purchased at Xlibris bookstore. For more information, contact Xlibris at +0800-644-6988 or on the web at http://www.XlibrisPublishing.co.uk.