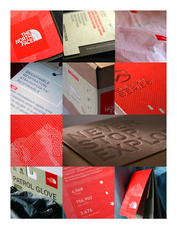 With the value of branding no longer a secret, the world becoming borderless, and the rate of information travel unbounded, assessing brand distinction and leadership is no easy task. The range of excellence in this year's global pool was inspiring, and demonstrated the value of effective rebrands and the global commitment evident in solutions
San Francisco, California (PRWEB) March 17, 2009
Chen Design Associates' redesign of The North Face product packaging and hang tag system was named one of the world's most effective rebrands in the fifth annual ReBrand 100® Global Awards, garnering one of 25 Distinction Awards. ReBrand 100 is the highest recognition for brand rebuilding and redesign in the business arena, and is the only global, juried program of its kind. The North Face retained Chen Design Associates to launch a global redesign of its product hang tag and packaging system that better expresses the company's unwavering commitment to excellence and journey toward sustainability.
ReBrand 100's write up of Chen Design Associates' winning entry can be found at http://www.rebrand.com/2009-distinction-the-north-face .
"With the value of branding no longer a secret, the world becoming borderless, and the rate of information travel unbounded, assessing brand distinction and leadership is no easy task. The range of excellence in this year's global pool was inspiring, and demonstrated the value of effective rebrands and the global commitment evident in solutions," said Thebe Ikalafeng, CEO of South Africa-based Brand Leadership Group and 2009 ReBrand 100 juror.
To select winners, jurors reviewed the work which was required to transcend cosmetic changes. In addition to specific review guidelines they followed, strong consideration was given to executed strategy that made an emotional connection, met the stated objectives and needs of the identified target market. In true democratic fashion, a one-person entity had as much opportunity to be selected as did global organizations, since jurors were unaware of the brand strategist's name and size when reviewing the projects.
Over 40 industries and 21 countries are represented among the 2009 winners. Some of the world's best known branding consultants such as Interbrand, The Brand Union, DDB Canada, and more competed, as did in-house teams, small agencies, and representatives of multinational corporations. The jury panel, new each year, consists of a multidisciplinary mix of prominent, international, industry experts. The 2009 panel of 10 included CEO for InterbrandHealth Jane Parker, Burt Helm of BusinessWeek, and Creative Director of Australia-based Principals, Simon Wright.
Unique among other awards, "before" and "after" scenarios of each brand transformation are reviewed with details of the accompanying write-up on the approach. The rebrand could have been an enterprise-wide effort, a change in a single brand component, or a brand extension. Winning rebrands are showcased for inspiration and learning at http://www.rebrand.com.
About Chen Design Associates
Chen Design Associates is an internationally recognized, award-winning visual communications firm, specializing in brand strategy and design. We help a diverse portfolio of clients embed goodness into their offer and give voice to what is genuine and necessary, illuminating and unexpected, conscious and sustainable. Our work has been recognized by Communication Arts, A&E Television, Dwell magazine, Graphis, Type Directors Club, and The American Institute of Graphic Arts (AIGA). To view our work or for more information, visit http://www.chendesign.com.
About ReBrand™ and the ReBrand 100® Global Awards:
ReBrand is the global, online resource for case studies on the most effective brand transformations: the repositioning, revitalizing, and redesign of existing brand assets to meet strategic goals. Featured in such media as The Wall Street Journal, CNN Money, BusinessWeek, and Yahoo! Finance, ReBrand's leading program, the annual ReBrand 100® Global Awards, has entry deadlines in late September of each year. To view winning case studies or to learn how to enter, visit http://www.rebrand.com.
# # #