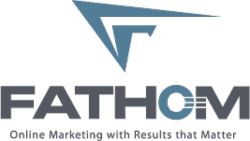 Cleveland, OH (PRWEB) September 28, 2011
"Turning online marketing into online sales…"
This tagline drives the motivation of an Internet marketing company that just rolled out a new product—Your Top Salesperson™—and redesigned website. The changes represent Fathom's solution to a fundamental challenge facing most businesses: the increasing difficulty of growing profitable revenue, both online and offline. In response to this need, Fathom, previously known as "Fathom SEO," has developed more than 20 online marketing specialties over the years to complement its original SEO expertise. This accumulation of knowledge/services and concentration on return-on-investment has led to Your Top Salesperson,™ Fathom's new solution for businesses looking to increase their online leads and revenue in a profitable way.
Removing "SEO" from its name told businesses what they already knew, that SEO alone isn't enough anymore to conquer the online marketplace. "SEO and typical online marketing focus on things like getting to the first page on Google," said Scot Lowry, Fathom's CEO. "The last time I checked, you can't buy a loaf of bread with a first-page ranking on Google. Our clients hire us to generate profitable revenue for their business through their websites, and that's what we focus on."
What hasn't changed is Fathom's focus on providing simple access to a complex online world for clients. Fathom has been doing this for more than 14 years, and this focus explains how it has earned a top 25 placement out of 10,000 search-engine marketing agencies for the past five years (per Advertising Age magazine). "We make it simple for our clients by beginning with the end in mind: delivering profitable revenue. We even went so far as to change our website address to FathomDelivers.com, and we tally the collective revenue we have generated for clients on our home page to remind us of this top priority," added Lowry.
In line with Fathom's singularity of purpose, its new product is called "Your Top Salesperson™," or ("YTS™"). "Why does every business love its top salesperson?" asked Dan Martello, Fathom's Sr. Business Development Manager. "Because it's easy to see the positive impact. You don't have to dwell in the complexity of how they do it when the results so clearly tell the story. We headline all of our YTS™ reporting with revenue and return-on-investment figures to provide this same level of clarity and accountability to our clients."
Fathom approaches prospective clients with a question, "How do we drive profitable revenue?" Then one of its account managers customizes a Your Top Salesperson™ solution from among the 20+ components and the combined knowledge of dozens of experts. Integrating all these capabilities into one solution is what allows Fathom to turn online marketing into online sales.
Sarah Hay, eMarketing Manager at Akron Brass, affirms, "We chose Fathom and the Your Top Salesperson™ solution because it made clear business sense. Fathom offers a simple interface to a complex world. We can focus on our core business and Fathom-led marketing results while leaving the complexity of the rapidly changing online landscape for them to handle."
About Fathom
Established in 1997, Fathom is a full-service digital marketing company that delivers measurable results that matter:leads that buy and profitable revenue. Fathom's 300+ clients range from middle-market companies to large global enterprises. Industry specialties include B2B, B2C, healthcare, manufacturing, IT/software, education and e-commerce.
Whether engaged in SEO, paid search, email, or video production, Fathom customers recognize that Internet marketing is the most efficient and profitable way to reach and convert their target audiences, and they bank on Fathom's reputation, expertise and commitment to achieving their business goals.
The company currently has 130+ employees and is headquartered in Valley View, Ohio.
###