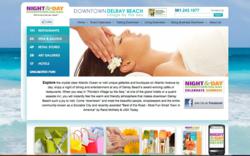 MaasMedia has been building our brand for several years. Our streets are bustling with people. One would never know there was a recession in our country by visiting Downtown Delray Beach
West Palm Beach, FL (PRWEB) August 31, 2012
MaasMedia, a full service Advertising Agency, helped revitalize Downtown Delray Beach Florida with "Night & Day Downtown Delray" campaign. The Delray Beach Downtown Development Authority (DDA) needed a catalyst to spark Downtown Delray Beach re-branding efforts. Enter MaasMedia. With their years of experience, the MaasMedia creative team immediately rolled-up their sleeves and embedded themselves in the trenches with DDA to take on the re-branding challenges.
Marjorie Ferrer – Executive Director of Delray Beach Downtown Development Authority said "It uniquely describes who we are and what our town delivers to the consumer. We were voted "Most Fun Small Town" this year by Rand McNally and USA Today!" MaasMedia's ad campaign has positively affected the economy of Downtown Delray Beach. Ferrer added, "MaasMedia has been building our brand for several years. Our streets are bustling with people. One would never know there was a recession in our country by visiting Downtown Delray Beach and they have played a strategic part of our marketing plan."
MaasMedia faced the challenge of developing new messaging, a logo and tagline to support Downtown Delray Beach's vibrant culture. As a result, MaasMedia developed the brand identity "Night & Day Downtown Delray. We're Just What You Need! For our Village by the Sea."
In addition, MaasMedia was tapped to work with the Delray Beach Center for the Arts at Old School Square, formerly known as the Old School Square Cultural Arts Center, on its re-branding efforts. The creative team was challenged to promote the new name, four disciplines and facilities without damaging community's relationship with the existing Arts Center. "The MaasMedia team has been invaluable to us as we transitioned our 20-year old brand to a new name with an exciting, new look," says Melissa Carter, Director of Marketing and Public Relations at Delray Beach Center for the Arts. She added "From brand consultation, to design of first-class collateral and advertising, MaasMedia has guided us through the process, and it's been a pleasure."
MaasMedia is powered by husband and wife duo Franz and Phyllis Maas. They are the best combination of old school care with new school flair. Everything produced by MaasMedia is custom designed to meet the company's needs, criteria and budget. They attribute the success of their campaigns on the hands-on approach they take with each of their clients. Phyllis Maas, who has over 30 years of agency experience noted "Client care is a lost art nowadays, but that's integral to building quality campaigns. We become an extension of our clients. We work with them as if we are in a room down the hall. We are not afraid of hard-work."
MaasMedia, a full-service Advertising agency, has delivered successful marketing and advertising services to a diverse client roster since 1987. Specializing in comprehensive marketing campaigns, MaasMedia carries a company's brand throughout all avenues of communication. MaasMedia prides itself in tenacious campaign management, the development of influential, hard-hitting concepts, copy writing and design, effective media procurement and complete print, broadcast and social media/computer-based media.
MaasMedia is a hands-on agency with a philosophy of "excellence first" at all levels of creative and production development. From concept through completion, you will receive only the highest quality service from a talented and deadline-oriented staff. For more information on how MaasMedia can help revitalize your brand please visit http://www.maasmedia.com.