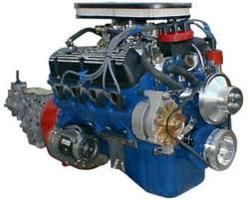 The motors that are now for sale online are in refurbished condition to help provide buyers with a like new unit.
Peoria, Illinois (PRWEB) May 28, 2013
The Ford produced 302 engine has been used in many vehicles over the past 45 years. Owners of vehicles replacing this engine are now expected to benefit from a new source to find replacements online. The CrateEnginesforSale.com company is now selling rebuilt 302 Ford crate engine inventory to consumers. These motors can be researched at http://www.crateenginesforsale.com/ford-2/ford-302-crate-engines-sale and are expected to provide an affordable replacement option compared with buying a brand new 302 motor.
The development of the Mustang and other Ford vehicles helped to introduce the V8 performance in terms of horsepower and reliability. The 302 engine series is one of the largest produced and can be one of the most difficult to find. Various sellers provide this series for replacement and it is often found in used condition.
The motors that are now for sale online are in refurbished condition to help provide buyers with a like new unit. The reconditioning work completed by the Crate Engines for Sale Co. makes these engine replacements possible and the low price attached is a bonus for buyers.
The inclusion of the 302 V8 engine online is part of a performance engine upgrade for engine buyers. Engines from the Ford family, Chevrolet and Dodge have recently been included in the new rebuilding schedule. Aside from the price incentives announced, new ways to test the quality of these motors has now been established.
Dyno testing equipment is now applied to each crate motor that is refurbished in the company facility. These measures of testing are providing more reliable units that are ready for customer installations. These tests and the included warranty are not expected to raise the current sale price of each engine.
The Chevrolet brand of motors is also stocked by this company and has been expanded due to better supplier arrangements. The 5.3 Vortec series is among the multiple GM engine types that are now available for purchase online. The news release at http://www.prweb.com/releases/53-vortec-crate-engines/crate-motors-sale/prweb10707348.htm was the first announcement provided by this company alerting the buying public of the addition of the Vortec series engines. An equally affordable price has been attached with each sale of these motors to reduce installation costs for consumers.
All of the engine additions now for sale online can be quoted in price using the company quote tool installed on each page of the company website. The prices that are achievable through this system are helping to provide faster ways to process engine orders.
About CrateEnginesforSale.com
The CrateEnginesforSale.com company supplies refurbished crate motors in foreign and domestic builds to buyers in North America. This company has built its reputation by selling motors to trade industry buyers and has added the consumer sales policy this year. By adding three-year warranties with each sale, the CrateEnginesforSale.com company has been able to supply the public with better options for protecting motors after installations occur. This company now processes each engine shipment on the same day to allow faster delivery schedules. The company quote system now used by buyers is contributing to faster order processing.