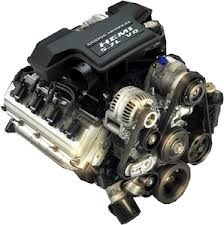 This performance testing equipment is used by most automakers during the creation of an OEM motor.
Columbus, Ohio (PRWEB) February 20, 2013
Chrysler produced its 5.7 motor as replacement to the retired Magnum series. This engine has now received a special discount for pickup truck owners at the remanufacturedenginesforsale.com website. The rebuilt 5.7 Hemi engine is now marked down to a lower price point as one effort to help truck owners and companies performing Hemi engine replacement services. These motors are custom built and conform to all OEM Chrysler specs to allow a like new installation after each purchase.
The Ram truck series received the first installation of the Hemi engine in 2004. A base of 345 hp is provided with this engine and is one reason for the overall popularity by truck owners. Multiple installations across the Dodge lineup has helped more vehicle owners receive the 5.7 engine horsepower range.
The refurbished motors that are now discounted for sale to truck owners online are guaranteed to install correctly without requiring modifications.
Engine warranties can be attached with a sale or obsolete depending on the retailer. The reconditioned engines industry offers a certain level of protection compared with an untested preowned unit. One of the ways that the RemanufacturedEnginesforSale.com company is now using to provide a higher output quality for customers is with the new three-year coverage for warranty added to every sale. This coverage includes the protection that buyers search for when replacing a motor.
The new warranty measures now in place are possible due to the new dyno testing equipment that has been installed at this company. This performance testing equipment is used by most automakers during the creation of an OEM motor. The integration of these new digitally measured tests are one way now used to supply the highest build quality currently available for a reconditioned engine.
A news announcement for the integration of dyno testing was made earlier this month and can be read online at http://www.seattlepi.com/business/press-releases/article/Engine-Rebuild-Company-Adds-Dyno-Testing-to-its-4270339.php.
The inventory increases that have taken place through this company this year are helping to expand the options for buyers purchasing on the secondary market. New units are added on a regular basis as older engines are retired and new builds are completed.
About Remanufactured Engines for Sale
The Remanufactured Engines for Sale company supplies its custom built motors directly to vehicle owners and trade industry buyers. A simple pricing structure laid out by the company has helped expedite engine purchases. The same price level offered to trade industry customers is now offered directly to owners of vehicles. The Remanufactured Engines for Sale company has added new testing and changed its warranty program due to new improvements in quality standards. The same day shipments now offered by this company seek to expedite customer deliveries in the United States.