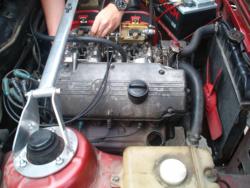 Our new engine shop expansion is state of the art and is able to successfully restore OEM quality to Chevrolet and Ford engines.
Louisville, KY (PRWEB) May 07, 2012
Rebuilt engines are one of the secrets used by engine builders to give high mileage engines a new lease on a useful life. Swapping out used engines for ones that have been remanufactured is a way to give engine owners more value for their money. http://www.GotEngines.com, an online engine retailer, announces the completion of a new engine shop that now includes the ability to rebuild Ford and Chevrolet engines to order. The upgraded technology required to rebuild automobile, truck and SUV engines is now installed and engines are scheduled for rebuilds effective immediately. Project car builders, dealerships and service centers that handle warranty repairs can benefit from the new opportunity to install rebuilt engines compared to used engines for a competitive price.
The traditional chain of engine buying and selling was originally set up in the 1940s after World War II. The expanding automotive industry made it possible for the construction of dealerships and dealer networks to move engines from dealer to dealer. The rebuilt engines industry first became popular in the 1970s during the U.S. gasoline crisis. Drivers began to seek smaller engine alternatives instead of the gas-guzzling engines that were commonplace with standard leaded gasoline. A rebuilt engine is one that has the old parts removed and it is serviced in a controlled engine shop to restore it back to its original accuracy. "Our new engine shop expansion is state of the art and is able to successfully restore OEM quality to Chevrolet and Ford engines," said Joe Nolan, Engine Shop Supervisor at GotEngines.com. 
A standard warranty that is issued with the purchase of a new engine is 3 years or 36,000 miles. Owners of brand new vehicles have protection underwritten directly by dealerships or car lots where the vehicles are purchased. Used car, truck and SUV owners often receive a smaller warranty upon purchase of 12 months or less. In situations where new engine swaps are out of someone's realistic budget range, a rebuilt engine is one of the options that a vehicle owner can use. As sales of Ford and Chevrolet vehicles rise in 2012, the potential for selling more rebuilt engines is present and the retailers like GotEngines.com are preparing to meet this demand head on in the secondary engines market. Apart from its latest engine shop expansion, new Ford and Chevrolet mechanics have been hired and trained to lessen the risk of delays for each engine rebuild performed by GotEngines.com.
About GotEngines.com
By offering low prices and a larger than average inventory, GotEngines.com has been able to win the hearts of engine buyers in the U.S. and Canada. This retailer is a direct supplier of rebuilt engines and used engines to the automotive, warranty service and mechanic industry. By personally training each engine mechanic, GotEngines.com delivers consistent value and OEM performance into every engine. A trained call center staff and shipping department complete the circle of knowledge available that is offered with every customer order.