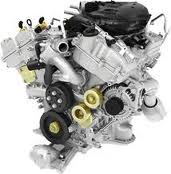 This cost effective method for replacement is one way that can be used to increase the value of a vehicle.
Detroit, Michigan (PRWEB) May 29, 2013
The Ford Motor Company is known for its development in engineering of automotive engines. The V6 engine base has been used in a variety of vehicles in the Ford family and one company is now providing recycled editions for the public. The RebuiltEnginesSale.com company now sells its rebuilt Ford 2.9L engine series for a reduced price online. These motors are offered to V6 vehicle owners using the Cologne based engines. This cost effective method for replacement is one way that can be used to increase the value of a vehicle. Current pricing and stock levels can be found at http://www.rebuiltenginessale.com/ford/rebuilt-ford-29l-engine.
The secondary market engines industry is supported by used and reconditioned types. Used units are ones usually found through junkyards and salvage companies. While these motors can be reduced in price for quick sale, quality issues can plague the average engine. The refurbished units that are offered provide a 'like new' condition engine without the MSRP price of a new unit.
The Rebuilt Engines Sale company has added the 2.9L series to its growing Ford inventory online. The addition of this series is expected to offer the value and performance that can be hard to find through average sellers in the replacement auto parts industry.
The refurbished engines offered to the public are now under new terms of warranty coverage. Because there is no standard for warranties in the secondary market, the motors that are now sold from the RebuiltEnginesSale.com company have been upgraded with three-year warranties. This period of time is now provided to protect the parts installed during the rebuild as well as the labor by trained experts. These warranties are offered in comparison to used engines not currently warranted when found for sale online. No additional charges are added to customer orders for the new extended warranty terms.
The company inventory now offered for sale can be quoted in price using two new methods added this year. The first method is by toll-free telephone number at 1-877-630-3873. This number places customers in direct contact company with specialists able to locate current pricing inside the company inventory. Answers to questions are also provided using this new number.
The online quote generation tool now available on the company website is the second way current pricing is delivered. Basic information can be entered into the quote system and prices are generated after submission. These ways are helping more buyers to receive engine details and prices faster compared with offline research methods.
About RebuiltEnginesSale.com
The RebuiltEnginesSale.com company provides rebuilt automotive engines for lower than dealership prices. The company rebuilding specialists offer import and domestic builds for current and classic engine types in the automotive industry. This company sells its motors to trade industry buyers as well as the general public searching for replacement motors online. The RebuiltEnginesSale.com company quotes engine prices for all buyers using the updated methods installed online and offline. This company supplies parts warranty coverage with all sales and ensures that all shipments in the U.S. are expedited for each order.